D'Lashes, Luxury Lashes Defined Launches "Lash Stash" Subscription Box
Hollywood authority on lashes Dionne Phillips launches a monthly subscription box making her talked about lashes available to clients all over the world.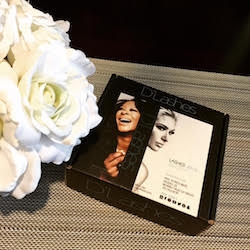 Los Angeles, CA, May 07, 2016 --(
PR.com
)-- Dionne Phillips, the Hollywood authority on eyelash extensions and creator of D'Lashes, Luxury Lashes Defined, has launched the ultimate beauty must-have, "Lash Stash," a monthly subscription box complete with 4 - 6 lash styles from the D'Lashes collection. The signature boxes feature lash strips which are exactly like the glamorous extensions Dionne provides her clients, like Victoria Beckham, Mary J. Blige, Marissa Tomei, Paris Hilton, Naomi Campbell and a host of others, however, they're designed for daytime use, giving those who want temporary lashes for special events or just during the day, the option.
After receiving requests for her lashes from all over the world, Dionne felt inspired to make her product available to everyone and create a box featuring some of her most popular styles including the DWispys. With a budget-friendly price tag of $35 to $40, beauty buffs can opt for a year-long subscription, a six or three month subscription or a one-time delivery. Whether for personal use or as a gift for a mom, a friend, a sister or a bridesmaids gift, Lash Stash feels special and like a monthly treat.
Dionne, who's been transforming looks since 2005, says that her lash subscription box is designed to "save lash-lovers a trip to places like Rite Aid, Walgreens or CVS for those one-time use lashes as well as save these ladies the frustration of not being able to find the type of lash strip she wants."
As a lash expert, Dionne knows that after a week, drugstore lashes don't hold up well, so for the girl who wants fresh lashes, but doesn't want to or can't commit to extensions, she can sign up for the Lash Stash and enjoy soft, luxurious lashes as she pleases with the option to re-use a single set up to four times.
Along with the high-quality lashes, that Dionne's celebrity clients love, Lash Stash subscribers will also receive adhesive and an applicator all perfectly packed into a D'Lashes signature box. In the future the Lash Stash is expected to include a surprise monthly gift that compliments that month's lash selection. There is no commitment and customers have the option to cancel anytime.
Lash Stash subscriptions are currently available by going to www.dlashes.com and signing up.
About Dionne:
Dionne Phillips has been dubbed the premier authority in celebrity eyelash extensions and faux lashes. She began her career servicing clients such as Naomi Campbell, Renee Zellweger, Lindsay Lohan and a host of others while working at a well-known, prestigious salon. After several successful years of providing LA's most beautiful and durable eyelashes, Dionne decided to strike out on her own, launching D'Lashes in 2005.
About D'Lashes Salon and Product:
The salon features state of the art amenities and the kind of pampering you would expect and deserve. Take your eyelashes from thin unnoticeable eyelashes to rich, full, beautiful ones.
Dionne's Lashes are custom individual eyelash extensions that are attached to your natural eyelashes, lasting up to 6-8 weeks. While you relax, the procedure is painless and takes approximately 2 hours. Whatever your choice of look, giving your natural eyelashes a full, long glamorous look.
Mascara can be a thing of the past. Safe, Hypoallergenic and waterproof. Easy to maintain, you can easily workout, take a shower or even swim in them. Saving your time and money on mascara and false strip eyelashes.
To learn more about Dionne, interview her or book an appointment contact: Dlashes7@gmail.com
Contact
D'Lashes
Dionne Phillips
(310) 552-8174
dlashes.com
Twitter: @DLashes
Snapchat: DLashes
Linkedin: D'Lashes by Dionne Phillips
Facebook: www.DLashes.com
PERISCOPE: DLashes
Tumblr: @DLashes

Contact