RF Skin Tightening & Cellulite Reduction at MaxAesthetics
MaxAesthetics MedSpa now offers radio frequency skin tightening as a non-invasive alternative to surgery for the treatment of lax skin, cellulite and wrinkles.
Philadelphia, PA, May 13, 2016 --(
PR.com
)-- At MaxAesthetics, RF skin tightening gives clients the option to enhance and renew skin tone and texture by utilizing radio frequency energy to heat the dermis deep beneath the skin's surface. Without surgery, recovery time, or injections, RF skin tightening is an ideal solution for the face and body.
Radio frequency tightening works by slowly heating the dermis well below the skin's surface which constricts collagen fibers, and stimulate the production of new collagen thus producing a tightening and lifting effect of the skin. Clients of any skin type, tone or age can be treated, as the procedure heats tissue beneath the skin's surface.
RF skin tightening can smooth fine lines around the eyes and mouth, and lift the face, neck and jowls. On the body RF skin tightening can be utilized to reduce stretch marks, flabby skin, crepey skin, cellulite and overall improve the skin. For optimal results, MaxAesthetics may customize this treatment with other collagen boosting treatments depending on the client's specific needs.
Although a single treatment produces very good results for many clients, it is quite common to need multiple treatments, depending on the area being treated, for maximum results. RF skin tightening packages include 6 weekly, or biweekly treatments.
Clients are invited to schedule a complementary consultation to see how RF skin tightening can improve their skin laxity, cellulite, wrinkles and overall appearance.
Contact
MaxAesthetics
Maxine Dean
267-528-3859
MaxAesthetics.com

Contact
Multimedia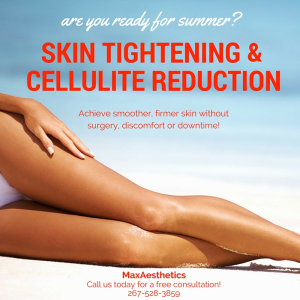 Tighter, firmer skin with no injections, no discomfort and no downtime at MaxAesthetics.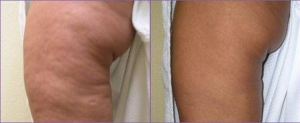 Want to get rid of cellulite? Dramatic results on the thighs, hips and buttocks with RF skin tightening and cellulite reduction.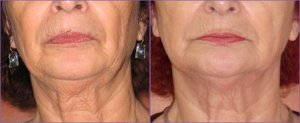 RF skin tightening lifts and firms the face, jowls and neck and smooths away wrinkles around the eyes and mouth.