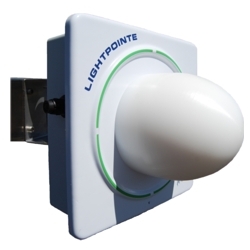 San Diego, CA, May 12, 2016 --(
PR.com
)-- LightPointe Wireless, the leading manufacturer of outdoor wireless bridges for high capacity data backhaul and video transmission, announced that its 60 GHz point to point wireless bridge portfolio, the AireLink Series, has added a new model which starts at US$2400 (€2100). The AireLink 60 Value Edition sets a new milestone in price and performance in the industry and includes many of the features found in far more expensive carrier class backhaul radios used in 4G wireless backhaul and enterprise building connectivity. In addition, the AireLink 60 Series can be deployed in security and surveillance networks, where numerous digital video streams from IP cameras can be combined into one data stream and transmitted long distance to DVRs in monitoring facilities - without using fiber or coaxial cable.
"Aside from the new AireLink 60 Value Edition introduction, and an industry leading feature set and price point, what has made our AireLink Series successful is the unparalleled technical support before and after the sale, which is achieved by our support personnel and engineers being co-located in our certified ISO 9001 San Diego, California factory and headquarters," said John Taylor, vice president of sales for LightPointe. "Our design engineers work side by side in the same building with our manufacturing, production, and quality personnel, which leads to high quality and faster product innovations - and very importantly, unsurpassed technical support. If a customer has a question, they can literally call the product manager and engineers who designed the product, rather than a subcontracted technical representative located overseas. In addition to award winning support, the AireLink Series is now the most affordable and highest performance 60 GHz wireless bridge family on the market, enabling organizations to connect buildings or towers up to a mile away and 'cut the cord' on their leased lines, which eliminates recurring monthly fees and can also keep sensitive data within a private network for greatly enhanced cyber security and protection from information theft and eavesdropping."
LightPointe has also added upgradeable features that are a leap beyond previous generation 60 GHz radios, such as the industry's first fully integrated street-level remote monitoring feature, and available AES 256 encryption for maximum signal security. And since 60 GHz frequency spectrum is license free throughout most of the world, there's no government regulatory issues or annual fees. This makes the AireLink 60 Value Edition ideal for enterprises such as hospitals, schools, universities, businesses, and government agencies to connect buildings up to a mile away, while benefiting from fast ROI over wired alternatives and leased lines.
Distribution opportunities are available in many parts of the world for wireless and security product distributors, resellers, and integrators interested in LightPointe 60 GHz wireless bridges.
LightPointe is a San Diego-based manufacturer of wireless Gigabit capacity bridges for enterprise and 4G/LTE carrier markets, including small cell backhaul. The company also manufactures a line of Ultra Low Latency (ULL) wireless bridges utilized for High Frequency Trading (HFT) networks, Data Centers, Data Warehousing, and Cloud Networks. The company is owned by a billion-dollar Silicon Valley firm and employees. LightPointe has representatives worldwide, including Germany, France, United Kingdom, Italy, Spain, Brazil, Argentina, Chile, Mexico, Canada, China, Singapore, India, and Japan. LightPointe products lead the unwired solutions sector, and compete with Siklu, Bridgewave, Ubiquiti, and other wireless bridge brands.