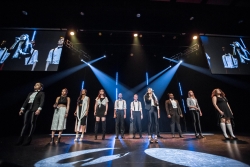 Oakland, CA, May 13, 2016 --(
PR.com
)-- Vocal Rush, the 4-time high school national a cappella champions, announces the release of their 5th album titled "11" at Yoshi's on June 6, 2016 and will be available for purchase from iTunes and Loudr.fm beginning on June 7th, 2016.
Following up on their most recent national title at the National a Cappella Convention in Memphis, TN on April 22, 2016 and their 4th national title in the 5 years of their existence, the album release of "11" contains 11 original songs written and performed by Vocal Rush members from the Oakland School for the Arts.
More than just a student written album, "11" is a demonstration of musical collaboration between students that range from the writing, arrangement, and performance with the support of professional arrangers and recording engineers.
Students in Vocal Rush are passionate about spreading a message of love, compassion and justice for all people. They have incorporated songs dedicated to the Black Lives Matter movement in their performances, demonstrating the powerful impact arts and music can have on affecting social change.
Ticket information for the show at Yoshi's on June 6, 2016 can be found at
www.yoshis.com
in the Calendar section.
Vocal Rush is a four-time national champion a cappella ensemble based out of Oakland School for the Arts (OSA) and comprised of singers ages 15-18. Combining passion, talent and dedication, along with the vision of director/founder Lisa Forkish, Vocal Rush has become one of the most respected high school a cappella groups in the U.S. since their inception in March, 2011. Before joining the renowned School of Vocal Music faculty at OSA, led by chair/founder Cava Menzies, Forkish was music director for the University of Oregon's award-winning a cappella group Divisi, featured in Mickey Rapkin's book "Pitch Perfect," later made into the box-office smash film.
Vocal Rush has received numerous accolades, including national championship titles in 2012, 2013, 2015 and 2016, a first place win at the L.A. A Cappella Festival, and in 2013, a third place win on NBC's hit a cappella competition show, "The Sing-Off." Past members of Vocal Rush have performed for President Obama as well as OSA founder, California Governor Jerry Brown. Vocal Rush has released four CDs, "The Beginning" and "Shatter," both nominated for numerous Contemporary A Cappella Recording Awards, including Best High School Album. The ensemble has the soulful stage presence and urban swag that reflects all that is unique to OSA and sets them apart in the a cappella scene. Vocal Rush brings to life the heart and soul of Oakland School for the Arts, putting their all into every performance. See these young singers in action at
www.youtube.com/osavocalrush
.