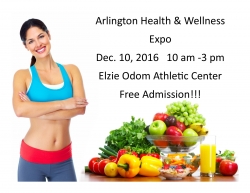 Arlington, TX, May 16, 2016 --(
PR.com
)-- GGA Productions is now booking health and wellness vendors for Arlington Health and Wellness Expo, Dec. 10, 2016 and April 22, 2017.
10x10 indoor booth, $125 (no tables & chairs included at this venue). Free parking & wi-fi, limited access to electric.
Vendor set up will be Saturday morning starting at 8 am to 10 am, event is 10 am to 3 pm and will be free to the public. Breakdown from 3 to 5 pm. There is space for 100 vendors, so when the spots are full, they're full.
GGA Productions is now booking vendors that offer health and wellness-related products, such as weight loss; energy drinks; workout equipment/gear; workout attire; vitamins/supplements; healthcare; chiropractors; boot camps; essential oils; etc.
To sign up online, please email info@ggaproductions.org with:
Business Name:
Contact:
Cell phone:
Mailing Address:
Product Description/2 Photos:
Texas Sales Tax #, if applicable:
List of desired events:
Facebook:
https://www.facebook.com/events/820369764759601/