Five O'Clock Steakhouse Hosts V.I.P. Event Celebrating the Restaurant's 70th Anniversary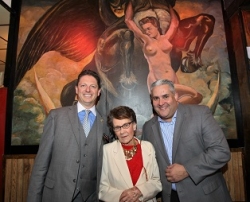 Milwaukee, WI, May 13, 2016 --(
PR.com
)-- On Monday, May 9, 2016, Milwaukee's iconic Five O'Clock Steakhouse celebrated their 70th Anniversary and being voted "Best Steak" by four major Milwaukee publications in the past year, with an exclusive V.I.P. event held at the restaurant.
The celebration featured live music by Christopher's Project, complimentary appetizers, Five O'Clock's signature Old Fashioned cocktails and vintage giveaways including original "Bill Coerper's Five O'Clock Club" matchbooks.
Five O'Clock unveiled a historic mural discovered hidden behind the mirrored walls. Mata and Tony Kartsonas of Historic Surfaces LLC worked to restore the mural to its original condition, and were on-hand to speak to guests about the project.
Longtime customer Jeanne Ricci and her daughter Jackie Bayer were honored guests of the night. Ricci's wedding photographs from 1945 inspired not only the 70th Anniversary celebration, but also the search for the fabled mural.
Customer Jason Dodge donated photos from the time his family owned the property between 1917 - 1925. Five O'Clock's owners had enlargements created for the anniversary event and the photos will remain on display in the restaurant.
"Ultimate Fan" contest winners, who submitted their favorite Five O'Clock memories in honor of the 70th Anniversary, were interviewed by media. Reporters, crew and executives from
CBS 58
,
TMJ4
,
WTMJ News Radio 620
/KTI Country,
OnMilwaukee.com
and
Shepherd Express
covered the event for local media
Donations collected at the event benefited the
Milwaukee County Historical Society
, who was instrumental in helping research the history of the restaurant in preparation for the anniversary. Ben Barbera, Associate Curator of the historical society spoke to the crowd.
Ron Faiola, author of
"Wisconsin Supper Clubs: Another Round"
signed copies of his newly-released book, in which Five O'Clock Steakhouse and Managing Partner
Stelio Kalkounos
are featured.
Notable guests included Wisconsin Senator Herb Kohl, 4th District Alderman Robert Bauman, 10th District Alderman Michael J. Murphy, and Executive Director Keith Stanley of Avenues West Association. James Beard Award Finalist Chef Justin Carlisle of Ardent Restaurant, Jim Klisch of Lakefront Brewery, Nick Anton owner of La Perla Restaurant, and Bruce Pritzlaff of Pritzlaff Meats.
"We were incredibly honored to have loyal customers, community leaders, newsmakers and our fellow industry professionals come out to help us celebrate," said Stelio Kalkounos, Managing Partner of Five O'Clock Steakhouse. "Five O'Clock is the oldest remaining authentic supper club in Milwaukee. These walls are steeped in history, and the family is committed to upholding the finest quality and service for future generations to create their own memories."
Five O'Clock Steakhouse
414-342-3553, 2416 W. State St., Milwaukee, WI 53233
www.FiveOClockSteakhouse.com
"One of America's Best Steakhouses" Featured on the Travel Channel's "Steak Paradise 3"
One of the "Best Steakhouses in the U.S." – www.TraveandLeisure.com
One of America's Best Steakhouses – Culinary TV Host/Author Rachael Ray
Voted "Best Steak" in Milwaukee "Readers' Choice"- Milwaukee Magazine, Shepherd Express, Journal Sentinel, OnMilwaukee.com
Best Supper Club - Readers Choice, Shepherd Express 2015
Winner "Diners' Choice Award" - OpenTable.com
About Five O'Clock Steakhouse
Five O' Clock Steakhouse, formerly Coerper's Five O' Clock Club, has been a family-owned and independently operated Milwaukee steakhouse and supper club since 1946, serving the finest steaks paired with outstanding service. Five O'Clock has been named "One of America's Best Steakhouses" by TV host Rachael Ray, TravelandLeisure.com and was featured on the Travel Channel's "Steak Paradise 3." The Alley Cat Lounge features free live music weekly, classic cocktails and a 1940's retro-lounge ambience.
Contact
Five O'Clock Steakhouse
Amanda Behrman
224-623-3235
www.FiveOclockSteakhouse.com

Contact