Journalist's Debut Novel Explores Extreme Solution for Parents of Troubled Teens
DELIVER HER by journalist Patricia Perry Donovan examines a radical ploy for parents of wayward teens: the hiring of a transport service to take the youth to therapeutic treatment.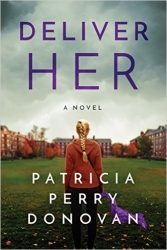 Manasquan, NJ, May 20, 2016 --(
PR.com
)-- To what lengths should a parent go to rescue a child?
DELIVER HER, a debut novel by journalist Patricia Perry Donovan, is a searing exploration of a daughter's grief, a mother's desperation, and an endless highway of deception.
In DELIVER HER, Meg Carmody is heartbroken for her teenage daughter Alex and desperate to get the teen's life back on track. At her wit's end, the mother makes a fateful call to a transporter who specializes in shuttling troubled teens to therapeutic programs, unbeknownst to her estranged husband.
But when the transport of the tormented teen goes awry—and Alex goes missing—Meg must face the consequences of her decision and her deception. The hunt for Alex reveals that Meg is not the only one keeping secrets.
The fictional Carmodys of DELIVER HER are among thousands of distraught families across the United States who engage a youth transport service to deliver an at-risk child to a designated treatment facility, boarding school or wellness program. This crisis intervention is frequently employed in the wake of troubling behavior such as substance abuse, addiction or violence.
A family saga told from multiple points of view—mother, daughter and transporter—DELIVER HER has garnered nearly 350 five-star reviews at amazon.com since its April 1, 2016 release. Susan Breen, author of The Fiction Class and the upcoming Maggie Dove mystery series, hails it as "A perfect book club book—a powerful story about a mother's efforts to save a daughter who seems to be going out of control. It's a story about love and family and betrayal; how you can mess things up when you're trying to do the right thing."
Ms. Donovan will discuss DELIVER HER and sign copies of her book on Sunday, May 22, 2015 from 1-3 pm at BookTowne, 171 Main Street, Manasquan, N.J. To RSVP to this event, call 732.722.7255 or email events@BookTowne.com
About DELIVER HER: Issued by Lake Union Publishing, DELIVER HER is available at BookTowne or may be ordered in paperback, audio and digital formats from amazon.com: http://ow.ly/ICGT300jXFT
About the Author: Patricia Perry Donovan is a journalist who writes about healthcare. Her fiction has appeared in numerous literary journals. She was a 2012 winner of The Book Doctors' Pitchapalooza competition for aspiring authors. The mother of two grown daughters, Ms. Donovan lives at the Jersey Shore with her husband, where she mentors a teen service organization. She is available for book club discussions of DELIVER HER. Learn more at www.patriciaperrydonovan.com.
Contact
Patricia Perry Donovan
732-528-7347
www.patriciaperrydonovan.com

Contact