Woodmere Rehabilitation (WR&HCC) Will Participate in Red Nose Day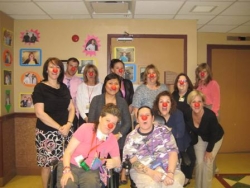 Woodmere, NY, May 20, 2016 --(
PR.com
)-- Residents and staff of WR&HCC will team up to fight child poverty by fundraising and participating in Red Nose Day. Red Nose Day will take place on Thursday, May 26th. This will be the second year that WR&HCC participates in this worthy cause. Last year, the fundraising total was 398 dollars. This amount helped 12 charity organizations combat poverty.
Again residents and staff will don their red noses to pose for pictures. Mr. Elie Pollak, Administrator of WR&HCC commented, "I am looking forward to this fun day where giving opens the door to making a difference."
The Red Nose Brigade brought smiles and laughter to the residents and staff at the Facility. It was a day that brought awareness to people of the plight of children living in poverty through the power laughter. "Deeds of giving are the very foundations of the world." Mishna, Pirkel Avot 1:2
Woodmere Rehabilitation & Health Care Center is located in the heart of the Five Towns. The 150 bed facility offers quality, individualized and specialized services and programs in long term care, short term rehabilitation and sub-acute care including on-site dialysis, wound care and ventilator care. WR&HCC is dedicated to the provision of the highest possible quality of life for all residents in a cheerful, well maintained environment in which the individuality and self-determination of each resident is honored.
Red Nose Day USA is run by Comic Relief Inc. which is an independent sister organization of Comic Relief UK. Comic Relief Inc. and Comic Relief UK are independent organizations related through their shared vision of a just world, free from poverty; and with the same mission to effect positive change through the power of entertainment.
For additional information regarding this event, contact Irene Carr at icarr@woodmererehab.com.
Contact
Woodmere Rehabilitation & Heath Care Center
Irene Carr
516 374 9300
www.woodmererehab.com

Contact