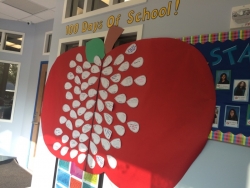 Hoboken, NJ, May 20, 2016 --(
PR.com
)-- Hoboken Apple Montessori Schools will commemorate the 100th day the new Hoboken school on Sinatra Drive opened its doors to infants, toddlers, preschoolers, and kindergartners in the community on January 4, 2016. The school is the second Hoboken location for Apple Montessori Schools, now offering a home away from home for your children on the south side of Hoboken at 220 Sinatra Drive. Today, the school and its families celebrated all the ways the children have become 100 days richer academically, socially and emotionally.
To commemorate the special occasion, students, parents and staff worked together to create an oversized apple, symbolic of the school's brand, and posted 100 things the children love about school on apple seeds. The project created excitement amongst the children who felt special adding their own contributions. For their youngest students, parents happily stepped in to share what they loved most about the school.
"The 100th day of school is a special day to remember for all of us," said Valerie Kolibas, Director of Hoboken Apple Montessori Schools. "It's about creating our own family within school and all the experiences we've shared as the children grew 100 days closer to developing a love of learning for life."
It has been an exciting week for Sinatra Drive Hoboken Apple Montessori School as the school completed the installation of an indoor playground which will be instrumental in promoting gross motor development, brain development and socialization skills. To learn more about the 100 days of school celebration or more about the two Apple Montessori Hoboken locations, visit their website at www.applemontessorischools.com or schedule a tour with their Hoboken school at (201) 222-1464 (south) or (201) 963-4949 (north).
About Apple Montessori Schools: Family owned Apple Montessori Schools have inspired a love of learning for over 40 years. Our infant, toddler, preschool/kindergarten, and elementary programs are not only child-inspired, they are research-proven. The core of what we do is nurturing the whole child – intellectually, socially, emotionally, and beyond. By recognizing that no two children are the same, our approach cultivates the unique potential of each and every child in a caring, safe, and supportive school environment. Our schools are located in Cliffside Park, Edgewater, Edison, Hoboken, Kinnelon, Mahwah, Metuchen, Morris Plains, Oakland, Randolph, Towaco, and Wayne. See how the Apple Montessori difference can benefit your child by visiting our website at
www.applemontessorischools.com
.