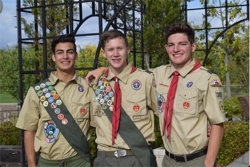 Temecula, CA, May 26, 2016 --(
PR.com
)-- Three local scouts: Richard Austin LaFleur, Gino Piccino, and Zac Skinner will be recognized at an invitation only Eagle Scout Court of Honor ceremony held at Harveston Lake House in Temecula, CA on Thursday May 26 at 5:00 pm PDT. The presenting speakers and color guard are past and present leaders and scouts from Troop 301 Tahquitz District, California Inland Empire Council (CIEC) led by current Scoutmaster Dave Levinter. Troop 301 was chartered in 1976 and is the oldest BSA Troop in Temecula.
Eagle Scout is the highest achievement or rank attainable in the Boy Scouting program of the Boy Scouts of America (BSA). The designation "Eagle Scout" has a long history since its founding over one hundred years ago. Only four percent of Boy Scouts are granted this rank after a lengthy review process. The requirements necessary to achieve this rank take years to fulfill. Since its founding, the Eagle Scout rank has been earned by more than two million young men.
LaFleur, Piccino, and Skinner are currently seniors at Chaparral High School. All three boys began scouting as cub scouts in Temecula Valley.
As part of attaining the Eagle merit, scouts are required to complete an Eagle Project to demonstrate leadership of others while performing a project for the benefit of his community. Of the three, LaFleur led the mapping, construction and installation of trail head signs designating the meadow trails for Meadowview Community Homeowners Association in central Temecula. Piccino also served his project in Meadowview developing and installing community signage and leading construction of a recycling and refuse area. Skinner's project aided Animal Friends of the Valley as his Eagle Project led scouts in building dog houses and shelters for the facility.
In a letter to the scouts, Temecula Mayor Mike Naggar wrote: "I would like to extend my heartiest congratulations to you on this most significant accomplishment. I know the path to Eagle Scout is a long one requiring a lot of initiative, responsibility and dedication." The Temecula City Council will recognize the scouts at a scheduled council meeting on June 28th. A letter from California Governor Jerry Brown also praised the honor: "Congratulations for earning the rank of Eagle Scout. Your dedication and commitment have made those around you proud. Well done on reaching this milestone."
LaFleur, honored recently by CHS for his contribution in Stage Technology, spent the past summer at Philmont Scout Camp in Cimarron, New Mexico completing an aggressive high-adventure 70 mile wilderness trek. "I had the best time at Philmont, but I also had the worst time at Philmont," he laughs. "Open country and nature is very exciting but Mother Nature can be brutal. Testing your limits during a high adventure trek in such an extreme climate with other scouts is tremendously rewarding."
"Looking back, the scout leaders were really patient with us," said Piccino who cheers with California All Stars and swam for the Temecula Tritons TMEC. "As young scouts it was easy to overlook the personal time and commitment our leaders contributed to guiding us through scouting. Troop 301 leaders are awesome! Some of my best memories during backpacking trips involve hotdogs that mistakenly wound up in the dirt and unplanned adventures where our 'Be Prepared' motto really put itself on display. But the respect I've built for these leaders will last a lifetime and the friendships I've made in scouting are truly lifelong friendships."
Skinner, who is a Second-Degree Brown Belt in Karate and plays Water Polo with CHS Puma's really enjoyed the BSA Camp at Emerald Bay on Catalina Island. "Getting out on that island and hiking up Silver Peak to watch the sunrise over the cloud layer at the mountain top was a moment I will never forget. Catalina Island was the perfect backdrop to develop my outdoor and teamwork skills in scouting." Skinner, is actively involved with his youth group at Faith Community Church and has individually logged 280 hours of community service, closely demonstrating traits well aligned with the core tenants of an Eagle Scout.
Eagle Scouts are expected to set an example for other Scouts and to become the leaders in life that they have demonstrated themselves to be in Scouting. According to U.S. Scouting Service Project "Scoutings Bottom Line" published in November 2007, they are disproportionately represented in the military, service academy graduates, in higher education and academia, major professions, the clergy, business and politics. Eagles are more likely to exercise for 30 minutes or more every day, volunteer for religious and nonreligious organizations, have closer relationships with family and friends, be in a leadership position at their place of employment or local community, donate money to charitable groups, and to work with others to improve their neighborhoods.
Said former Troop 301 Scoutmaster Matthew Ferguson, "I have had the honor to work with each of these scouts; Austin, Gino, and Zac. Each one has proven to be a leader in their own unique way. We will be watching and reading about each of these men in the future as they will continue their work to promote scouting, become leaders in all that they do, and continue to give back to their communities.
"Troop 301 is very proud of these scouts. We expect their future contributions to the Temecula Valley and our country to be great!" said retired educator and Troop 301 Eagle Coordinator, Richard Scott.
If you are someone you know is interested in scouting, please have them visit the Boy Scouts of America website at www.scouting.org.