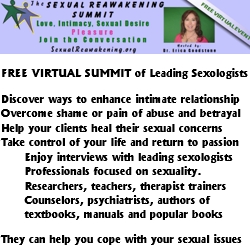 Hillsboro Beach, FL, June 04, 2016 --(
PR.com
)-- Dr. Erica Goodstone is a woman on a mission! Having been interviewed herself on numerous Love and Relationship summits, podcasts and webinars online she has made it her goal to highlight leading healthcare professionals who make a huge difference in the lives of others.
The Sexual Reawakening Summit was born when Dr. Erica attended the recent Society for the Scientific Study of Sexuality (SSTAR) conference in Chicago. As a long time member, she was struck by the high-volume of peer-reviewed solid research, validated therapeutic approaches, decades of training and experience exhibited by not only the presenters but also by most of the members attending. Realizing the importance of this profound and not widely understood body of work, Dr. Erica began inviting her colleagues to participate in this one-of-a-kind interview summit totally focused on the field of sexology.
Sexology is a comprehensive field of study and training. Each participant in the summit has devoted their life's work to better understanding the complexities of sexual attitudes, desires, behaviors and the interactions with other aspects of an individual's life. They talk about how to enjoy pleasure and orgasm, how to understand their own and other people's sexual identity, sexual preferences, sexual lifestyles. They share clinical and research insights about how to overcome trauma, sexual abuse and other issues that alter the enjoyment of intimacy with self and with others. And they provide clinical and real-life examples of how to deal with the challenges of injury, disease and aging … and so much more.