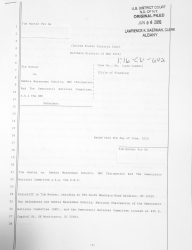 Albany, NY, June 07, 2016 --(
PR.com
)-- Files Federal Lawsuit seeking answers and remedy for alleged damages.
Tim Hunter filed a Class Action lawsuit in the United States District Court, Northern District of New York. Tim Hunter vs. Debbie Wasserman Schultz, DNC Chairperson and The Democratic National Committee a.k.a. The DNC. The full complaint may be found at: http://www.timhuntermusic.com/tim-hunter-vs.-debbie---the-dnc-1.html
In presidential campaigns, Article 5, section 4 of the DNC bylaws implicitly require the DNC and their chair to "exercise impartiality and evenhandedness between the Presidential candidates and campaigns." The suit claims that allegedly Wasserman Schultz and the DNC have not remained impartial, but rather have been overtly partial, advocating for the Clinton campaign.
Allegedly, the DNC has been partial through coordinating efforts in canvassing, polling, conducting caucuses and conventions, supervising election results, and perhaps most damaging, helping the Clinton Campaign to raise funds.
Allegedly, the DNC violated the impartiality of their Chair and their own bylaws by raising over $100 Million Dollars to the Clinton Campaign. The lawsuit demands that an accounting be done, and the Sanders campaign receive the same alleged amount.
Tim Hunter wants the DNC to acknowledge this alleged activity before the July 25th Nominating Convention. "The People have a right to know," says Tim Hunter. "Democrats have a right to know. And the nominating delegates need to know."
A mission statement from the Democratic Party website says "this country succeeds when everyone gets a fair shot, and everyone plays by the same rules." "Either this statement stands true, or it does not!" says Hunter.
We The People, Need to Know!
Contact: Tim Hunter 584 South Mountain Road
Phone: 845-255-2323 Gardiner, NY 12525
Cell: 845-616-6960 www.timhuntermusic.com