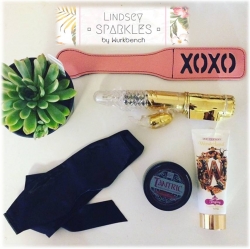 Los Angeles, CA, June 10, 2016 --(
PR.com
)-- With a victorious launch in January of this year, WURKBENCH continues its journey to provide everyday people and those with a little kink, a tailored subscription to satisfy their every sexual and romantic desire. WURKBENCH is approachable adult toy curation service that takes the mystery out of what adult products to purchase, with very little financial risk to its subscribers. The subscription boxes full of high quality products (no samples) range from $69-$129 per quarter. For those not willing to commit just yet, WURKBENCH also offers one time specialty boxes for only $99 and include up to 5 unique products.
The uniqueness to the WURKBENCH service is the 15 question profile that subscribers fill out. Similar to the fashion subscription sensation Stitch Fix, the difference is in the profiling and customization. "I think the #1 reason we are so successful is that our customers really appreciate the fact that this box has been created just for them, not just from an assembly line of boxes created each quarter," claims Newport, co-founder of WURKBENCH. "No two boxes are alike… not only can you say what you like, but also what you don't. We recently had a customer give us feedback as that being the reason why he and his wife subscribed," Newport adds.
The WURKBENCH offer has garnered the interest of erotica writers, sexperts and celebrities alike. Satisfying a niche that doesn't currently exist in the industry is what WURKBENCH continues to strive for. This month the company is excited to announce its partnering with Lindsey Evans, high profile blogger and the actress cast in the new DC Comics as Barbara Gordon (Batgirl). In conjunction with WURKBENCH, Evans has curated her own box to share with her fans and followers, sold on the WURKBENCH website.
"I've been anticipating the release of this box with Wurkbench because I am a believer in promoting a sex positive attitude," explains Evans. "The vision behind the box is to evoke confidence and pride around one's sexuality. I curated a box that was not only that, but beautiful and feminine!" she concludes.
Evans will be promoting the box starting June 10, 2016 via her blog lindseysparkles.blogspot.com/. The Lindsey Sparkles box is available directly on www.wurkbench.com.
For more information log on to www.wurkbench.com ~ facebook.com/wurkbench ~ twitter.com/wurkbench