Chris Voigt Releases Studio Album, "All I Need"
Chris Voigt releases first praise and worship album available on Amazon.com, iTunes, Spotify, and all major music sites.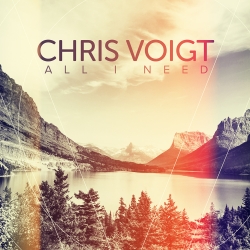 Portland, OR, June 11, 2016 --(
PR.com
)-- "All I Need" is a collection of original songs performed by Salem-based worship leader and musician Chris Voigt (www.chrisvoigtworship.com). The album has 12 tracks with varying musical styles and will be released in tandem with a Spanish-language version by label partner BentBeat Productions. "These songs reflect several aspects of my perspective of worship," said Voigt. "What worship means to me can't be fully realized inside of just twelve songs, but anyone who listens to this album from beginning to end will come away with a fuller and more meaningful understanding of what worship really is."
The project features Chris Voigt delivering all lead vocals, with guest musicians and vocalists appearing on every track. The Spanish-language sister project was also sung in its entirety by Voigt. "This project was really a foray into new territory for all involved," said producer Jozi Bently. "The number of songwriters and musicians alone was more than we've ever had involved with a single project. Added to that was a multitude of consultants, advisors, and translators being that none of the songwriters speak fluent Spanish. It's pretty amazing how the entire thing came together and created something that I consider both universally relevant and also incredibly personal to Chris and his ministry."
Voigt has been involved in leading worship for over 25 years, and this is the first full-length studio album. For this project, he teamed up with BentBeat Productions, a Portland-based boutique label. "I've always surrounded myself and my ministry with what I consider the best team of like-minded people I could put together to accomplish what needs to be done," said Voigt about the partnership. "BentBeat had the ability to help shape the music into a really good album, but more importantly they respected our goals and message for this album. They just became part of the team."
The album was produced by BentBeat's Jozi Bently and Dave Beatty, who were introduced to Voigt in 2015 after attending an event hosted by Chris Voigt Worship, a non-profit ministry dedicated to equipping and encouraging worship leaders around the world. "It was a very short time from inception to completion of the project on our end," said Beatty. "Chris's ministry has had this publication in mind for quite some time but we were partnered at just the right moment to make the music happen and happen well. There is such a stellar cast on this album that the final sound is pretty spectacular. We were even able to tap into Dayspring Fellowship's (Voigt's church in Keizer, Oregon) choir for some of the tracks and get a great 'live' sound."
The Spanish-language version of this release was inspired by an upcoming trip to South America. Voigt and his team will be traveling to two different countries to facilitate their International Worship Conference. "Local churches in South America have access to far fewer resources than we do in the States," said Voigt about the bilingual release. "We hope that having this music available will help them take their worship experiences and team members to a higher level of skill and understanding."
"All I Need" and its sister release, "Eres Todo Para Mi," are both available on Amazon.com, iTunes, Spotify, and all major music sites.
About BentBeat Productions: BentBeat is based in Portland, Oregon. BBP's focus is on partnering with musicians to produce, record, and release high quality broadcast-level music through both social media and mainstream distribution. BentBeat's portfolio is available on Amazon.com, iTunes, Spotify, and all major music sites. Please join in supporting musicians.
Contact
BentBeat Productions
Dave Beatty
503.489.8275
www.bentbeat.com

Contact