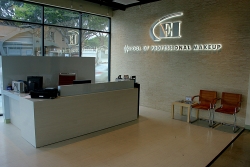 Los Angeles, CA, June 13, 2016 --(
PR.com
)-- As the entertainment industry implores more and more special effects in their productions, the need for professional makeup artists is steadily on the rise. With all of the advancements in CGI there has been an increase in demand for Special Effects makeup artists. In an industry that shows no signs of slowing down, there may actually be a shortage of Professional Makeup Artists in the near future.
There are many areas where a makeup artist is needed on hand for long hours, days, weeks or even months at a time. Just about everyone who appears on television is, in the very least, glossed over by a makeup artist before filming. Although in live Theatre there are some actors who apply their own makeup, the trend is now moving toward having makeup artists who perform the task.
While there are definitely plenty of Makeup Artists, there aren't enough who have the ability to work in the entertainment industry. This leads to delayed productions, increased costs, reduced morale and frustration. It affects just about everyone involved in the production, from the crew to the actors to the directors. A movie production may be cut back or scrapped altogether because skilled makeup artists aren't available for the job.
In an effort to ensure that there are enough skilled professional makeup artists to go around, EI has relocated and revamped their school accordingly. The new facility boasts approximately 20,000 square feet of space that includes larger work areas, additional restrooms, student lounge and a cafe. Students are able to enjoy a more spacious environment in a completely renovated building designed to strengthen their education. Newly fashioned special effects finishing areas allow both students and instructors to fully cultivate their work with less hassle, less waiting, and more efficiency.
"We are thrilled about our relocation to this new facility, which has been in the works for some time now," said Todd Berhorst, Managing Director of EI. "We're able to accommodate more students and provide additional working space for student projects. It's always been our goal to provide students with the best instruction, skill set, and training in the art of makeup."
Everyone is familiar with the advancements in CGI and it's application in Science Fiction and Fantasy. However, true realism often requires special effects makeup as well. It's usually a combination of the two that really breathes life into a character. A live actor/actress dressed in special effects makeup is critical to the authenticity of the role they are playing.
EI offers students everything from basic makeup looks to advanced special effects applications that require prostheses. Since they are an accredited professional makeup school, government funded financial aid is available to those who qualify.
Saturday, June 25th 2016, EI will be holding an open house event at their new location. There will be food, demos, scholarships and a tour of the school. The event is open to anyone who wishes to attend. Please call (323) 871-8318 or visit ei.edu for more information.