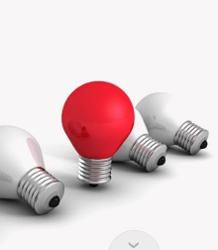 London, United Kingdom, June 15, 2016 --(
PR.com
)-- Newly-launched
Light Bulb Innovation Resource
will specialise in providing high-quality, interim support in Innovation, Brand Development and Insights – working in client offices as part of their team.
Over the past 10 years, parent company,
Blond Ideas Group,
has earned an excellent reputation for its cutting-edge work in strategic brand innovation across multiple industries around the world.
Anne le Blond, Managing Partner, explained: "Light Bulb has been created in direct response to client requests for specialist resource to join their teams on a short- to medium-term basis.
"Because of our own experience in running Innovation and Brand Development projects for some very discerning clients and on some of the world's best-known brands, we understand what it takes to excel at these disciplines - and we are very selective about the professionals that we place on client site."
Kevin O'Toole, Head of Client Services, added: "Our raison d'être is simply to provide our clients with high-quality resource, when and where they need it.
"Our clients will benefit from access to a wide range of professionals - from juniors to subject matter experts – who have had exposure to different industries and categories, with both client and agency backgrounds."
Contact details:
USA: 1 973 232 0821
hello.newyork@lightbulbinnovation.com
UK: +44 1628 400 686
hello.london@lightbulbinnovation.com