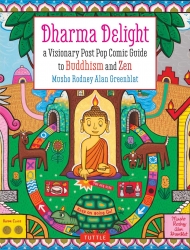 Philadelphia, PA, June 16, 2016 --(
PR.com
)-- Musho Rodney Alan Greenblat, internationally renowned artist, Zen practitioner and author of the newly published "Dharma Delight" will be giving a Dharma Talk and Book Signing on June 19th - 9:30 am at Soji Zen Center, 2325 W. Marshall Road, Lansdowne, PA 19050.
A great option for Zen beginners, the book playfully works with sutras (teachings), Bodhisattvas (enlightened beings) and jataka tales (parables). Dharma Delight is presented in a way that's simple, upbeat and fun to read. The original paintings - some new, some already known on the New York art scene and elsewhere - are an imaginative and affirming mind's-eye view of Buddhist teaching. Together, the words and illustrations are a warm and cheerful invitation to newcomers and a cool splash of refreshment to any traveler on the road to enlightenment.
Wisdom comes in many forms, and the search for wisdom has many expressions. Dharma Delight is a modest offering to all seekers of wisdom. "Musho, (his Buddhist name) through his experience, has found a way to communicate many of the hard-to-understand mysteries of the Dharma, using story, wit and hilarious images," says Roshi Enkyo O'Hara.