R4 Alliance Teaming Up with PsychArmor
R4 Alliance and Psych Armor team up to provide education opportunities to over 75 Non-profit programs of excellence serving Military and their families.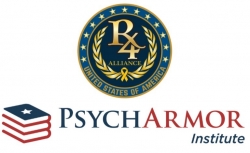 San Diego, CA, June 20, 2016 --(
PR.com
)-- R4 Continuing to Grow as a National Alliance of Programs of Excellence.
As R4 Alliance is continuing to find ways to provide maximum benefits to fill the needs of our Veterans and their families. An alliance with PsychArmor Institute will do just that. PsychArmor Institute provides free education and support on how to work with, live with or care for military veterans. They provide self- paced online courses and have a call in support center. "The PsychArmor online courses and call center creates the vital bridge for civilians that want to do their part in helping veterans." - Congresswoman Susan Davis. Directors of R4 Alliance couldn't be happier to welcome PsychArmor as one more amazing organization that is making a difference in the lives of Veterans across the Nation.
R4 Alliance is a means to join a group of peer recognized programs of excellence. Organizations that team up with R4 can collaborate on research, education, coordinated care network and gain development resources through fundraising and grant opportunities. As an alliance of programs of excellence, they work together to overcome the barriers and assist their members to provide the highest quality of services to Our Military Family. Every member organization of R4 has to meet the membership-defined standards and ethics. Chip Fisher, R4 Alliance's Vice Chairman states "There are thousands of organizations nationally trying to help but, sadly, there are too many big hearts with lousy or irresponsible practices. This leaves vets stranded, donors disillusioned and the VA not knowing how to create any meaningful public- private partnership opportunities." This is the gap that R4 is stepping up to fill.
By bringing together fiscally responsible, research driven programs that help disabled veterans, R4 is becoming a national voice. As organizations that wish to join must show that they meet R4 standards, ethics and policies, peace of mind is provided to supporters ensuring their contributions will find its way directly to the programs that help Our Military Family in the best way possible. Please visit
www.R4Alliance.org
to learn more.
Contact
R4 Alliance
Jenni Riley
(208)316-6555
www.r4alliance.org
or Jeannette@r4alliance.org

Contact