Paramount Hospitality Management Named Winner of LUX Magazine's 2016 Hospitality Awards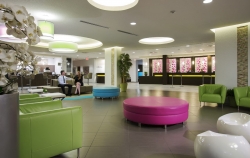 Orlando, FL, June 22, 2016 --(
PR.com
)-- LUX Magazine recently announced that Paramount Hospitality Management was awarded Best Luxury Accommodation Management Company – Orlando.
This award is on the heels of another distinction as one of Paramount's properties, the Floridays Resort Orlando, was recently named by TripAdvisor® as the number one family hotel in the nation and number five in the world.
No other resort or hotel in the United States garnered a top ten world ranking in 2016.
"We continually strive to offer the best return on investment for our owners and stellar service on behalf of our owners to our customers," said Marco Manzie, PHM President. "It is an honor to be recognized for our efforts."
The hospitality industry is traditionally highly competitive and dynamic, with operators facing a saturated market and demanding clients with high standards, and companies within this industry have had to work increasingly hard in recent years to meet clients' needs and create a reputation for excellence.
The 2016 Hospitality Awards are dedicated to rewarding and recognizing the companies, and the individuals behind them, that have worked tirelessly over the past year to achieve industry leading success, client satisfaction and market growth.
Discussing the awards, Lux Awards Coordinator Steve Simpson, said: "Throughout the hospitality industry there are establishments, companies and individuals who are working tirelessly to ensure that they meet guests' needs and provide them with an experience they will never forget. I am genuinely honored to be able to recognize the hard work undertaken within this innovative and dedicated industry, and I would like to congratulate all of the winners and wish them every success going forward."
To find out more about these prestigious awards, and to view the official announcement for Paramount Hospitality Management visit: http://lux.acquisition-intl.com/2016-paramount-hospitality-management.
About Paramount Hospitality Management LLC
Paramount Hospitality Management LLC is a full-service management company that manages and operates resorts, hotels and condos. The company is focused on delivering one-of-a-kind lifestyle experiences that bring together design, comfort and service in sought-after locations. Paramount has achieved successful recognition for superb and innovative approaches to property management across the spectrum of hotel and resort services. For more information, please visit www.paramounthospitality.com.
Contact
Paramount Hospitality Management
Jon McMillian
412-713-1396
www.avantiresort.com

Contact