New Book Release Announcement by Lyon Book & Social Media Promotions for Author, Roger Stark and Co-Author, Irwin Morse
Lyon Book Promotions announces a new addiction recovery book release by Author, Roger Stark, and Co-author Irwin Morse titled, "Reclaiming Your Addicted Brain: A Recovery GPS: How to find your path to Recovery and not get lost along the way." Now available in e-book format online at Amazon's Kindle Store and Barnes and Noble. Also available in paperback at authors website: "Reclaiming Your Addicted Brain."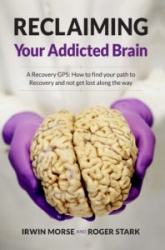 Phoenix, AZ, June 23, 2016 --(
PR.com
)-- Lyon Book & Social Media Promotions is pleased to announce Author, Roger Stark and Co-author, Irwin Morse are now featured on the popular book site Lyon Book & Social Media Promotions – joining the ranks of many fine authors we represent and promote.
As featured recovery writers, we are honored to showcase their books here on Lyon Book Promotions. Also, at Lyon Promotions, book fans can browse and search all our authors and their new releases, read book reviews, and learn more about new authors from our "Author Spotlights."
Stark of Washington State and Morse of Texas are currently promoting "Reclaiming Your Addicted Brain." An exceptional recovery "how to guide" for friends and family who are baffled by the behaviors, antics, and thinking of the addicted one. Their patience, tolerance, and love are depleted quickly. Eventually, their empathy and compassion exhausted, they say the inevitable, "He will just have to hit bottom," as they shake their heads and walk away.
The new book "Reclaiming Your Addicted Brain" maps the return journey from addict land for the addict. Teaching the "how" of leaving thinking errors behind. Written around the recovery story of one man from alcohol and sex addiction, clinical notes, and comments appear throughout the story helping the reader to understand this baffling disease.
Addicts are able to see what they themselves do when hearing others' testimony. Reading George's (the book's addicted character) story and misadventures creates 'aha' moments of understanding that can open the eyes of addicts and the doors to recovery. Hearing other addicts stories can be a powerful tool in one's recovery and make an addict feel less alone and more willing to receive help.
Like many popular authors, Stark and Morse are making use of the exceptional promoting services for writers to market their books.
Launched in May 2013, Author, Catherine Townsend-Lyon of Lyon Book Promotions has rapidly become a leading source to help new authors learn how to promote and market their books.
Contact
Lyon Book & Social Media Promotions
Catherine Lyon, Author/Promoter
602-795-6345
https://anauthorandwriterinprogress.wordpress.com

Contact