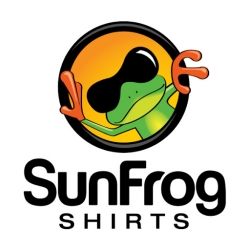 Gaylord, MI, June 28, 2016 --(
PR.com
)-- SunFrog Shirts, a leader and innovator in the t-shirt industry, recently crossed two major milestones with
SunFrog.com
now in the top 5,000 most visited websites worldwide (currently there are more than one billion websites worldwide). In addition this past weekend the site entered the top 1,000 websites in the United States out of more than 400 million sites.
"We have strived to become to the t-shirt world what Amazon is to books," states CEO and SunFrog owner, Josh Kent. "Other platforms have made the statement that they would accomplish this goal, we are proving that we are the only ones who can successfully make that claim. With the most designs on the web and now, with our ranking as the most popular t-shirt company online, we feel we are well on our way to making that a reality."
Alexa.com
is a California-based company that provides commercial web traffic data and analytics on the top 30 million websites worldwide. Their services are subscribed to by the top web-based companies in the world. Currently the top ranked companies include Amazon.com (#4), YouTube.com (#3), Facebook.com (#2) and the top ranked site, Google.com.
"We accomplished our goal nearly six months ahead of schedule. Our focus now is entering into the Top 500 in the Alexa U.S. rankings," said Kent. "Once you cross over into the Top 500 that translates into being a household name. When we get there, we know that when someone hears SunFrog they know who we are, just like when you hear Google, Facebook or YouTube."
The rapid growth up the Alexa.com charts for SunFrog is attributed to several factors; Kent points to the following:
"Our marketing team redesigned our website, established
Team.Sunfrog.com
, and became the only online t-shirt website to successfully launch a printed catalog. Our marketing efforts, coupled with our growing affiliate program are making a huge difference in who we are becoming."
At press time SunFrog's national Alexa.com ranking was 925 and worldwide ranking 3,965.
SunFrog.com
is the predominant t-shirt website in the world. By offering the most extensive array of designs available online, SunFrog has established itself as the most widely-held t-shirt platform... a place where artists and sellers can come together to market and sell the product... Shirts as Unique as You Are.