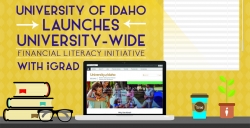 Moscow, ID, June 29, 2016 --(
PR.com
)-- Financial literacy education leader iGrad announces the University of Idaho has selected iGrad's adaptive learning platform to support the school's new Better Education About Money for Students (BEAMS) program. The program, offered through the school's Student Financial Aid Services, will set students up for financial success by providing financial knowledge and skills.
The university, established in 1892, serves over 11,000 students and generates 74 percent of all research money in the state. The student body, recognized for exemplary community service and civic engagement, will be instructed in wise financial decision-making through special presentations, one-on-one sessions, and iGrad's online, interactive learning modules.
"The University of Idaho has established a new program called BEAMS to enhance student financial literacy, smart borrowing, and knowledge on student loan repayment options. We look forward to iGrad being an integral part of our new program," stated Dan Davenport, Director of Student Financial Aid Services, about the partnership.
The
iGrad adaptive learning platform
enhances learning by recognizing the unique characteristics of each individual learner. "We now have a deep understanding of how students process financial education and it is clear that the delivery must be personalized to each individual. That is, it must be engaging and perceived as relevant, or the brain simply checks out. This is much more difficult than it sounds, but we have been fortunate to work with many of the best universities in the world to perfect this," discloses the company's vice president Kris Alban.
The complexity of personalized instruction is enormous. One of the more challenging learning problems occurs when the brain does not believe that a package of information has immediate relevance and therefore promptly dismisses the information presented. Each individual has a unique perception of relevance during different points in time, and therefore context is very important. If the information presented is not immediately relevant within the learner's own context, then a context must be provided that facilitates the critical connection in the brain.
The outcome of this learning process is both deep learning and great insight into patterns of success. "We feel that the reporting tools and analytics will not only be very useful in helping us reach our goals for the BEAMS program, but also will provide insight into how we can further assist our students in achieving success," added Mr. Davenport.
The iGrad platform allows students to create a profile and immediately begin to experience content customized to their needs. The tools and full library of resources include learning modules, current articles, videos, webinars, interactive games and calculators. The platform has been designed to both assess the student's financial skills and guide them through achieving their personal financial goals: building a personalized plan, developing money management skills, critical knowledge in money-saving techniques, establishing credit and smart borrowing.
About The University of Idaho: The University of Idaho is Idaho's oldest public university and is one of only 72 land-grant research universities in the United States. From its residential campus in Moscow, UI serves the state of Idaho through educational centers in Coeur d'Alene, Boise, Idaho Falls and Twin Falls, and Extension offices in 42 counties. Home to more than 11,000 students statewide, UI is a leader in student-centered learning and excels at interdisciplinary research, service to businesses and communities, and in advancing diversity, citizenship and global outreach. UI competes in the Big Sky Conference and Sun Belt Conference. Learn more: www.uidaho.edu
About iGrad: iGrad is privileged to partner with over 600 schools across the country to provide an industry-leading, customizable platform, which connects over 1.2 million students, as well as alumni and staff, with the tools needed to succeed in the real world of personal finance. iGrad is the only online community providing a comprehensive and customized financial literacy program featuring career assistance for students and graduates, user-specific financial education courses, and video-based student loan entrance and exit counseling. iGrad's recent accolades include: 2013, 2015 & 2016 Education Program of the Year, the Institute for Financial Literacy; Best Product of 2013, 2014 & 2015, University Business magazine; and Outstanding Consumer Information Award, Association for Financial Counseling, Planning and Education (AFCPE).