New Dolls Look to Take Advantage of Tide Toward Political Incorrectness During Election Season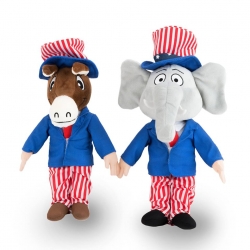 Raleigh, NC, July 06, 2016 --(
PR.com
)-- A new company is looking to make a unique and funny collectible a hot selling item during the 2016 election season. With no shortage of humor targeting the two major political parties as the elections approach, PIC Dolls has announced the availability of plush dolls that are far from politically correct.
PIC Dolls, which stands for Politically Incorrect Dolls, has launched its first two dolls just in time for the Republican and Democratic National Conventions. The 10-inch plush dolls are dressed like Uncle Sam in red, white and blue and each make jokes about the opposing political party; Phil A. Buster, is a wise-cracking elephant makes jokes about the Democrats, while Ralph A. Rendum is a clever donkey that takes shots at Republicans. Phil A. Buster and Ralph A. Rendum will also be active on Facebook and other social media leading up to the November elections.
Limited production of the dolls makes them great collectible items or the perfect gift. For more information or to purchase the dolls, go to www.PICdolls.com.
Contact
Neal Zipser
919-255-2556

Contact