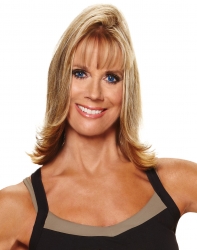 Carlsbad, CA, July 06, 2016 --(
PR.com
)-- On July 1, 2016, the San Diego Union Tribune honored Jazzercise, Inc. CEO and Founder Judi Sheppard Missett as one of 40 "San Diegans Who Have Changed the World."
The editorial opens with Judi onstage teaching a Dance Mixx class in Oceanside, and tells of the inception of Jazzercise as the moment that, "Judi realized her jazz dance students were more interested in fitness than finesse." Grace Marshall of the U-T reports that Judi's "Aha!" moment in 1969 led to her integration of energetic movements into her classes which tripled her class sizes within a week.
It was this philosophy of "fitness is fun" that became Jazzercise, Inc., "A company created by Sheppard Missett that would become one of the first organized fitness concepts in the United States, revolutionizing the exercise industry," says Marshall.
Judi has traveled the world teaching her program, leading classes at the White House, the 1984 Olympics, and during Super Bowl halftime shows. Marshall's article addresses Jazzercise's new look, noting that the brand continues to evolve, calling it "edgier" and saying that the look "highlights the strength and toning benefits the workouts provide."
Marshall concludes with Judi's accomplishments. As an award-winning businesswoman, Judi has been recognized with dozens of awards, including her induction into the International Association of Fitness Professionals Hall of Fame in 1992.
After over 45 years, Judi remains Jazzercise, Inc.'s CEO, designs modern dance routines each month for her classes and manages over 8,300 franchisees worldwide. World-changer, indeed.