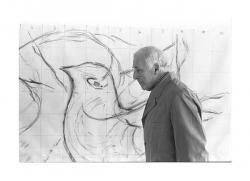 Jerusalem, Israel, July 08, 2016 --(
PR.com
)-- Jerusalem Publishing Atelier is proud to publish, for the first time ever, a rare art collection based on the up-close and personal pictures of Marc Chagall, captured by Israel's legendary photographer, David Rubinger, as he followed the Jewish master artist during his visits to Jerusalem during the 1960's and 1970's while working and completing his masterpiece for the Israeli Knesset. This momentous offering will allow a fortunate few to become a part of this history, celebrating both Marc Chagall, whose artwork needs no introduction, and David Rubinger, whose award-winning photograph of the three paratroopers immortalized at the Western Wall in Jerusalem as the 1967 war came to an end, is instantly recognizable. It is a remarkable opportunity to be part of history: the history of art, the personal history of two masters in their respective fields, and the long history of the Holy City of Jerusalem.
The Chagall-Rubinger project is a unique opportunity to collect a limited-edition of museum quality prints portraying never-before-released collection of images of Marc Chagall at work and traveling in Jerusalem in the 1960's and 70's. The distinctiveness of the offering – and its clear connection to the land of the bible – is of inherent value in and of itself. The significance of the exceptional-quality prints is further magnified by the collection of hand-written signature of David Rubinger, a world-renowned photographer and artist of his own right. www.chagallinisrael.com
About Jerusalem Publishing Atelier
Jerusalem Publishing Atelier is one of those very rare partnerships between three visionary, imaginative, and experienced minds who share a common passion: the love for art that is centered on the life and the history of Israel and the Holy City of Jerusalem.
Located in the heart of Jerusalem, JPA introduces art and history lovers to many of Jerusalem's most renowned artists, including several who have gained international fame, by presenting their depictions of the life, faith, art and life and the 3000-year history of Jerusalem and the Holy Land in ways and forms that are unmatched.
www.jpa-art.com
About David Rubinger
David Rubinger (born in 1924 in Vienna, Austria) is an Israeli photographer and legend in and of himself. His instantly-recognizable photo of three Israeli paratroopers after the recapture of the Western Wall in the Six-Day War has become a defining image in the history of Israel and the Jewish nation. Shimon Peres called Rubinger "the photographer of the Nation-in-the-Making." A Time–Life's primary photographer for the region, Rubinger was also awarded the" Israel Prize" in communications — photography, becoming the first photographer to receive the award.