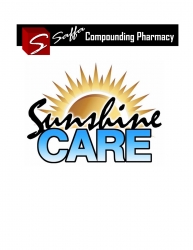 Tulsa, OK, July 07, 2016 --(
PR.com
)-- Saffa Compounding Pharmacy announced as Sunshine Care Partners territory license owner in Tulsa County, Oklahoma.
Saffa Compounding Pharmacy is proud to announce its purchase of the Sunshine Care Partners, Tulsa County Territory, and welcomes territory owners Debra Wells D.Ph., and Karla Taylor both residents of Tulsa County.
Beginning in 2015, Medicare began reimbursing qualified healthcare providers for providing chronic care management and care transition services to those beneficiaries who suffer from 2 or more chronic illnesses. 68.9% of all Medicare beneficiaries suffer from 2 or more chronic illnesses, over 35 million people.
Sunshine Care Partners Tulsa provides Chronic Care Management and Care Transition services to physicians, non-profits and agencies, long term care communities, Medicare Advantage programs, and hospitals. Sunshine Care Partners Tulsa will implement chronic care management and care transition services for patients using our proprietary IntellPatient software platform and individual local Sunshine Care Partners.
Saffa is proud to offer Tulsa County physicians the solution to the Chronic Care Patients' needs. After serving the community for over 42 years, they are expanding their service to both physicians and patients.
Karla Taylor states, "We are excited about partnering with physicians in Tulsa County to reach their patients with Chronic Care needs. We know the challenges facing physicians and their staff. We want to be the solution, a partner who helps meet Medicare requirements. This solution is unlike any other solution on the market and is a value added service that folds neatly in to the patients Electronic Health Records. Why would a physician consider this product – improved patient outcomes, fewer hospital readmits, quality of life improvements. Every patient who suffers from two or more chronic disease states should be asking their physician for their personal Sunshine Care Partner."
Tulsa County by the numbers
US Census quick facts states in Tulsa County there are 108,000 Medicare beneficiaries with Part A and Part B coverage.
"Tulsa County offers a diverse demographic, and a large Medicare population who suffer from chronic illnesses. 68.9% of every Medicare beneficiary suffers from 2 or more chronic illnesses and qualify for this new Medicare benefit. There are over 50,000 Medicare fee for service beneficiaries who qualify for this new benefit in Tulsa County. This benefit is life changing for many," said Rusty McMurray, Sunshine Care Partners Inc. President. Individual Sunshine Care Partners work with patients in conjunction with their primary care physicians to reach out to patients weekly to check on them, help arrange community services, talk with family, and follow the physician plan of care. Rollout will begin immediately, for more information please contact Karla Taylor at 918-551-7632.