TerrifiCon Delivers Star-Studded Comic Con to Mohegan Sun on August 19-21
Comic Con action returns to Mohegan Sun this August when TerrifiCon brings stars from today's hottest comic book-based TV shows and movies! Plus, top artists and writers from Marvel and DC Comics for three days of family fun.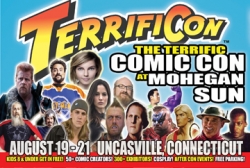 Uncasville, CT, July 13, 2016 --(
PR.com
)-- Stars from today's hottest comic-book-based shows like "The Walking Dead," "The Flash," "Arrow," and "Gotham" are part of this August's three-day comic con at Mohegan Sun in Uncasville, Connecticut. Big Fedora Marketing, LLC., the producer of the event at Mohegan Sun, is expanding its programming to provide fans with more space for exhibits, dealers of rare comic books and out-of-this-world merchandise, as well as the opportunity to meet their favorite comic book artists and writers and actors from TV and movies. TerrifiCon also offers a great line up of after-con activities, from music to comedy at the Mohegan Sun, recently voted Connecticut's "best" hotel by Travel and Leisure magazine.
From the world of television and movies, writer/director/actor and lifelong fanboy Kevin Smith will be doing a special comedy show on Saturday night at the Cabaret theater at the Mohegan Sun. Fans can meet actors Michael Cudlitz, who plays the ex-military zombie fighter, Abraham, on the hit series "The Walking Dead"; Camren Bicondova, who plays the young Catwoman aka Selina Kyle on "Gotham"; John Wesley Shipp, who played the Flash on the original 90s TV series and is now a star and a new version of the Flash on the CW series of the same name; Katrina Law, from "Arrow," "Spartacus," and the new CBS series "Training Day" (based on the Denzel Washington film); and alumni from Smith's works, including actor Jason Mewes from Smith's films "Clerks" and the Jay and Silent Bob film series; and Jeremy London from "Mallrats" and "Party of Five." TerrifiCon will also host the cast of Smith's hit AMC TV show "Comic Book Men": Bryan Johnson, Mike Zapcic, and Ming Chen; as well as Comedian, actor and Deadpool comic-book writer, Brian Posehn; veteran actor Rene Auberjonois, star of "Star Trek: Deep Space Nine," "Boston Legal," "Benson," and more. Other guests include Sean Guinn ("Guardians of the Galaxy"), Sam Jones ("Flash Gordon," "Ted"), special effects make-up artist from SyFy's "Face-Off," Tyler Green, "Candyman" himself, and the voice of the Flash's enemy Zoom, actor and Connecticut native Tony Todd, and wrestling legend Road Warrior Animal.
More than 50 comic creator guests from Marvel, DC, Image, and IDW comic books will be part of the largest gathering of comic-book professionals in Connecticut for the three-day convention. The list includes Marvel's award-winning and best-selling Spider-Man writer Dan Slott, Deadpool co-creator and writer Fabian Nicieza, Captain America artist and co-creator of The Winter Soldier Steve Epting, legendary Batman artist Neal Adams, the first-ever New England appearance of comic writer Roger Stern, a rare con appearance by artist Rick Hoberg, who worked on Marvel's original adaptation of Star Wars and animated shows like "Spider-Man and his Amazing Friends," "Jem," "Teenage Mutant Ninja Turtles," and "The X-Men."
Comic book writers JM DeMatteis and Peter David will also be on hand, as well as Alex De Campi (Smoke), Brian Augustyn (Batman, Flash), Joe Caramagna (Guardians of the Galaxy), Paul Kupperberg (Supergirl), and many more.
Artists appearing include Mark Bagley (Spider-Man), Dan Parent (Archie), Jerry Ordway (Superman), Graham Nolan (Batman), Phil Hester (Green Arrow), Scott Koblish (Deadpool), Tom Palmer (Avengers), Mark McKenna (Spider-Man), and Franco of the award-winning "Tiny Titans."
The three-day event will also have the ever-popular costume contests for adults, a children's costume parade, question-and-answer panels with guests, a video-game room, live music and comedy, Kid's Comic Con with puppetry and art classes for younger fans, magic shows, music, and other attractions.
Fans can see the actual 1989 "Batman" Batmobile, Doctor Who's TARDIS, a working replica of Optimus Prime from "The Transformers," and Spider-Man's own Spider-Mobile will be making its debut!
"For fans of comic books, sci-fi/fantasy films and TV shows, and cosplay, the three -day convention at Mohegan Sun will be the 'must-attend' event of the Summer," says TerrifiCon's owner and producer, Mitch Hallock. "We are also incorporating the terrific elements and activities of Mohegan Sun that you cannot find at any other comic con, which will give fans much more to do after the show ends for the day." Hallock, a lifelong comic-book fan and frequent contributor to WPLR's Chaz and AJ radio program as "King of the Nerds" went onto say TerrifiCon will deliver the experience fans expect from the massive big-city cons while still maintaining an intimate setting.
Children 8 and under are admitted free to TerrifiCon when accompanied by a paying adult attendee (limit 2 free children's passes per 1 paid adult ticket). Tickets are on sale at the Mohegan Sun Box Office, which is open seven days a week from 10 am – 8 pm, or may be purchased online at
www.ticketmaster.com
.
Visit TerrifiCon's official website at www.terrificon.com, and follow them on Twitter (@itsterrificon), Facebook, and Instagram (@terrificon_2016) for updates.
#comicon #comiccon #Terrificon #Connecticut #MoheganSun
Contact
TerrifiCon
Mitch Hallock
203-414-1214
www.terrificon.com/

Contact
Multimedia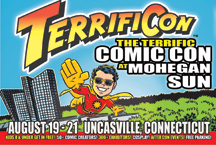 There are a lot of comic cons out there, but there is only one Terrific Comic Con! On August 19-21, 2016, Big Fedora Marketing brings Comic Con fun back to Mohegan Sun! More Creators! More Celebs! More Cosplay! More Exhibitors! Fans get ready for Connecticut's Terrific Comic Con - TerrifiCon!