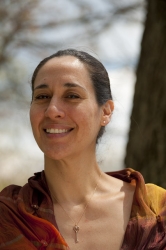 Madison, CT, July 14, 2016 --(
PR.com
)-- Leslie Karen Hammond will be the guest speaker at a Creating A Writing Life Retreat for Emerging Writers which takes place Saturday, July 30 at Mercy By the Sea in Madison. She is an advocate for writers encouraging them to tell their stories and get their voices out into the world, as well as author of three books. For the past 16 years Leslie's powerful insights have influenced thousands of people in the way they "show up and speak out" in the world. She is committed to helping mission-driven people share their stories with books and from the stage.
The all-inclusive Creating A Writing Life event offers writers working in all genres, all levels of ability, the chance to honor their passion for the writing life with a day on Long Island Sound connecting with other writers. Created by writer Patricia Ann Chaffee, the programs have always attracted emerging writers as well as those who are established and just need a little nudge, in a safe, sacred, non-judgmental atmosphere.
"I just find that the retreats really help me to center and focus," said former retreat participant, Jennifer Lorang. "Coming back to the place that always inspires me every year was beyond fantastic. I don't know what it is . . . but these retreats have a power behind them. They feel very sacred and empowering. They always give me a boost."
The event takes place Saturday, July 30 from 9:30-4:30 at Mercy By the Sea, a 33 acre retreat center on Long Island Sound. Registration of $145 includes breakfast and lunch. A portion of the proceeds will be donated to the American Stroke Association.
For more information or to register visit www.CreatingAWritingLife.com or call to register at Patricia Ann Chaffee at (860) 536-0051.