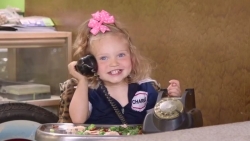 Los Angeles, CA, July 22, 2016 --(
PR.com
)-- Families around the world will come together to watch the world premiere of the brand new pre-school TV series, "Charlie" only available on Roku Television (35 million viewers) coming out this September 2016. This unique live action, family friendly, single camera pre-school series with a comedy flair targets a unique co-viewership audience, for both kids and their parents unlike any other show. The story revolves around one year old Charlie Dean and her dog Rocky Dean (a Boston Terrier) who solve neighborhood problems with the help of their animal friends; while her comedian mom experiences the perils and pitfalls of being a new mother. Other supporting characters are Sam the "Chi-hua-hua," Le Bron "the bunny," and other fun animal guest stars.
The series was created by comedian/writer/showrunner, Camille Solari who originally appeared on The Arsenio Hall show eight months pregnant with her real life daughter to be Charlie Solari Dean the now star of Charlie. Camille will also play her on camera mother as well. Lisa Joffrey (associate producer) and on camera quirky dog owner "Leece."
Season one is made up of ten half hour episodes and will be available exclusively on Roku Television in September 2016 in the family programming section.