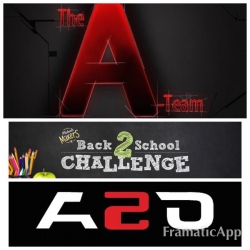 Charlotte, NC, August 02, 2016 --(
PR.com
)-- Alpha 2 Omega Fitness Raises The Bar With Back 2 School Challenge
With school right around the corner, it's time for the kiddos to go back to school and you to get your life back. Shouldn't you be investing in you now that things are calming back down?
With the epidemic of obesity manifesting itself more clearly with each passing year, public health officials are baffled at how to fight the problem.
Local fitness and health expert, A. Lamail Spain, spokesperson of Alpha 2 Omega Fitness, has the answer to give people an immediate reason to be active.
A. Lamail Spain is introducing a novel way to get people moving by motivating them with a transformation challenge, but not any old regular transformation challenge, one that comes to you in the comfort of your own home.
A. Lamail Spain explains, "I motivate my members by showing them that they don't need a lot, and they don't have to spend countless hours in the gym trying to get back in those skinny jeans. All they need is a floor, some space, a motivated passionate coach, and their own body.
"I think the high numbers of ineffective dieting, gym memberships that seldom are used, or new home equipment that serves as a coat rack show that people care not only about their fitness but also about their health. Linking the two is a great way for people to get over any inhibitions they might have for working out and being active."
Inactivity has been linked with a plethora of health concerns, including obesity and cardiovascular disease. Alpha 2 Omega Fitness uses efficient workouts, coached live one-on-one and group sessions, and now online personal coaching, to get people active and burning fat.
"We take all the excuses away so there is no excuse," says Coach Spain.
Now what makes A2O special is within 30 minutes a person can burn over 500 calories and get an efficient/ effective workout in the comfort of their living room using only their own body weight.
Alpha 2 Omega Fitness client Edmund Washington remarked, "A2O program is one of the best by far. I love the virtual workouts because I don't have to leave home and still burn about the same, if not more, than when I'm live with them. I've had other trainers, but I haven't seen the type of results that I've experienced with them. I feel better and have more energy. My clothes fit different and my family compliment me on how I look."
Alpha 2 Omega online 90 Day Back 2 School Challenge.
Includes:
1 weekly online workout of the week
In home 20 minute cardio workout
Ultimate Guide to 21 Day Habit Forming ebook
A2O cookbook ebook
A2O smoothie ebook
Weekly 30 minute nutritional counseling conference call
Facebook private group
Prizes:
Grand: Cancun weekend stay at 4 star hotel all inclusive with flight out of Charlotte Douglas Dec. 9-11
(valued $1,700)
First: Grand 3 day Carnival cruise to Nassau, Bahamas Dec. 2
(valued $700) flight not included
Second: 3 hour professional photo shoot (value $295)
Third: $300 Visa gift credit card
Honorable Mention
6 online training sessions
2-30 minute nutritional counseling coaching calls
Super pre-early (now til August -8)
Early (August 9-12)
Regular registration (August 13-16)
For more information contact A. Lamail Spain at 704-981-1623 or alpha2omegafit@gmail.com.
Anthona Lamail Spain, is head strength and conditioning coach/transformation specialist that specializes in injury prevention, functional movement, and weight loss & management for general population. He has performed thousands of workouts with diverse populations. Coach Spain's clientele, who has ranged in age from 8 to 88, have improved their fitness levels while dealing with medical issues including arthritis, osteoporosis, chronic fatigue syndrome, lower back problems, diabetes, high blood pressure, heart disease, lupus and more. He holds a certification as a Strength and Condition Specialist with the National Strength and Condition Association (NSCA).
Coach Spain graduated from Wingate University where he holds a Bachelor of Science degree in Athletic Training. He is a member of Phi Eta Sigma National Honor Society and graduated with Cum Laude honors. He was the first ever to complete all four years in Wingate's athletic training program and letter as a varsity football player at Wingate University. While at Wingate University, he was a GTE District III Academic All-American. He accumulated extensive experience with sports specific training through acting as a head student athletic training for the Wingate University Softball team, Men's Soccer team and assistant student athletic training of the Lacrosse team. He also holds Masters of Science degree from Illinois State University in Kinesiology and Recreation with an emphasis in Sports & Exercise Psychology.
In addition, Coach Spain holds a certification as a Master Hypnotherapist. He has studied and written numerous articles on sports and exercise psychology. He has worked in the exercise and sport arena for over 10 years in capacities from rehabilitating athletes back to their normal status of play to designing and implementing exercise programs to enhance people abilities and preventing injury. Coach Spain is a passionate motivational speaker, coach and consultant.
Contact – A. Lamail Spain/alpha2omegafit@gmail.com/704-858-7943