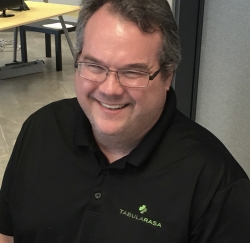 Moorestown, NJ, August 05, 2016 --(
PR.com
)-- Tabula Rasa Healthcare, Inc. (TRHC)
Chairman and CEO, Calvin H. Knowlton, PhD recently announced the launch of the TRHC Jack Russell Software Innovation Center (JRS IC)
. The purpose of the new JRS IC is to provide technology leadership, creativity and training to TRHC and its subsidiaries as well as the healthcare community at large. "JRS IC will work in collaboration with TRHC University to develop technology that will solve real healthcare problems while providing leading-edge value to software innovation," said Knowlton.
Tom Wilson, former founder, president and chief architect of Jack Russell Software, which now operates as a division of TRHC, will serve as JRS IC's Executive Vice President and Chief Technology Innovation Officer.
"By educating and empowering the development team, and the whole company, we can create a funnel that drives ideas and concepts into the Innovation Center to become future products and services of TRCH," explained Wilson.
The JRS IC will have three areas of focus: Labs, Programs and Training. In the Labs, new concepts and technologies will be evaluated and measured to identify potential future directions for healthcare technology. Programs will include Hackathons, the first of which was held July 20-22 in Charleston, SC, as well as other internal and external offerings now in the planning stage. Training will focus on helping current and future developers stay up-to-date and proficient on the latest technology. The first such training, scheduled to start September 19, is The Jack Russell Software Coding School Boot Camp, a 12-week immersive program focused on teaching aspiring developers JavaScript web technology for both frontend and backend skills.
"We believe this training program will become the Innovation Center's flagship program that helps raise the talent in the community," said Wilson. "And,
in honor of our launch and our first Coding Boot Camp, we are offering a 50% discount off of the tuition
– from $10,000 for the course to $5,000." Applications for admission can be submitted from August 1 – September 1, 2016. Limited space is available.
Faculty for JRS IC and its Coding School Boot Camp include professional software developers and long-time trainers of software development talent. Leading the group will be Wilson, who started hacking on computers at the age of 9, and whose knowledge, experience and passion provide a wealth of value for anyone interested in the craft of software development.
Wilson has extensive experience in building and leading teams in the development of large-scale and complex healthcare web applications. He is active within the Charleston software development community, is a member of the Charleston Digital Corridor and heads the Charleston CoderDojo, which teaches code to children. He chairs the Charleston JS Users Group and is an instructor and Lead Advisor at the Digital Corridor Code Camp. Wilson believes learning code is a valuable skill, whether one plans to use it professionally or to gain an understanding of the technical world. Recently, Wilson participated at the Syntax Code & Craft Convention, exploring Functional Reactive Programming with Rx.JS/CycleJS.
"Everywhere Tom has worked, he always has focused on improving the developer's skills as much as delivering quality software," said Jacques Turgeon, PharmD, TRHC's' Chief Scientific Officer and Dean of its corporate education facility, TRHC University. "We look forward to working with him as we build the JRS IC curriculum at TRHC University."
About JRS Innovation Center
The JRS Innovation Center (JRS IC) provides leadership, creativity and training to Tabula Rasa HealthCare and its subsidiaries, as well as the healthcare community at large. Programs and events are designed to engage and collaborate with highly trained professionals in fields of software development, while creating a culture that continuously innovates. The JRS IC works collaboratively with the TRHC Education, Research and Scientific Group to support science and technology solutions. Technology innovation focused on disrupting healthcare to provide patient medication safety is the mantra of the JRS IC. For more information, please visit http://www.jackrussellsoftware.com.
About Tabula Rasa HealthCare
Tabula Rasa HealthCare (TRHC) is a leader in providing patient-specific, data-driven technology and solutions that enable healthcare organizations to optimize medication regimens to improve patient outcomes, reduce hospitalizations, lower healthcare costs and manage risk. Medication risk management is TRHC's lead offering, and its cloud-based software applications provide solutions for a range of payers, providers and other healthcare organizations. For more information, please visit www.TRHC.com.