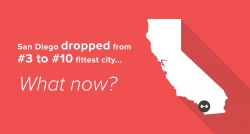 San Diego, CA, August 10, 2016 --(
PR.com
)-- San Diego dropped from #3 to #10 fittest city in the U.S. in May, according to the 9th Annual American Fitness Index (AFI). The city lost seven places between 2015 and 2016 in the biggest drop in fitness of any large U.S. city, according to study co-sponsors the American College of Sports Medicine and Anthem Foundation.
It could be "just in time" that expert fitness coach Nicholas Fury has brought his successful personal training practice to San Diego. Based in Little Italy, Furious Fitness' training philosophy and methods are a perfect fit for the San Diego lifestyle.
Nicholas comes to San Diego from Seattle, which the survey said was America's sixth-fittest city, picking up two places over 2016. Nicholas uses psychology to help motivate clients to adopt fitness as part of their life. With a track record of proven results from top executives, start-up founders and entrepreneurs in Seattle, Nicholas' individualized approach is backed up by fitness studies in addition to client testimonials.
One of the AFI fittest city study co-sponsors, Anthem Chief Clinical Officer Craig Samitt, MD, said, "Promoting a healthy lifestyle begins with each individual." That is where Furious Fitness and Nicholas' philosophy, that every client is an individual with unique challenges, goals and interests, comes in. Furious Fitness embraces this philosophy of individuality. Knowing the reasons why clients want to change helps to motivate them as they make lifestyle changes and fitness choices.
"Workouts don't have to feel like a punishment," Nicholas says. "I figure out what people want out of life, and motivate them to go get it. At the end of our session, we are usually in deep conversation about life, goals, family, and they don't even realize they have been lifting weights for an hour." Instead, they will be full of energy, vitality and renewed life. They'll feel better inside along with getting toned, sculpted, fit bodies.
With the Summer Olympics starting August 5, world athletes will be making sports look easy and fun. During the 2012 London Games, about 4 million Americans started a new sport or workout program. "While some people may not be motivated to play a particular sport because of watching the Olympic Games, many people are encouraged to start exercising and getting in better physical shape because of the Olympics," said Neil Schwartz of SGMA Research/Sports & Fitness Industry Association.
Nicholas says, "Change is difficult. There is no magic pill you can take to give yourself motivation and self-discipline. However, the next best thing is the right coach by your side, helping you every step of the way." To encourage San Diegans to get out and get moving Furious Fitness routinely hosts free outdoor workouts, free 5K runs and beach clean-ups.
Whether San Diegans want to be fitter in general, or are inspired by watching the Olympics, Nicholas Fury and Furious Fitness is offering a 3-month one-on-one program to help San Diegans adopt a healthier lifestyle.
Furious Fitness is located at 1490 Union Street in Little Italy. Call (425) 890-7629, or
http://www.furious.fitness/
.
About Nicholas Fury
With over 10 years of experience in the fitness industry, Nicholas has coached CEOs, start-up founders, and athletes. He is a certified personal trainer with the National Academy of Sports Medicine (NASM). For full list of certifications please view: www.furious.fitness/about
About Furious Fitness
Founded in 2014, Furious Fitness helps people improve the quality of their lives by focusing on physical rehabilitation of injuries, movement, nutrition, and exercise. Along with fitness and nutrition, Furious Fitness educates clients how to create the conditions and the environment for a complete physical and lifestyle transformation.
For more information
http://www.furious.fitness/
or call 1.425.890.7629
1490 Union St., San Diego, CA 92101