The Burbans to Take the Stage at Untermyer Park in Yonkers
The Untermyer Performing Arts Council announces August 27th Concert.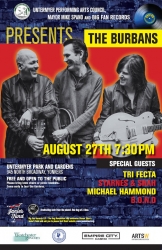 Yonkers, NY, August 14, 2016 --(
PR.com
)-- Untermyer Performing Arts Council and Big Fan Records is proud to present in concert Big Fan recording artist The Burbans. "Yonkers has been the place where many music stars have emanated from such as Mary J. Blige, Gene Krupa, Ella Fitzgerald and Steven Tyler, amongst others," stated Mary Hoar, President of the Untermyer Performing Arts Council. "We are thrilled to present this Yonkers musical talent and proud to be producing this with a Yonkers record label, Big Fan. This is truly a showcase of Yonkers talent." Ms. Hoar further noted that "Pete Agosta, father of of Big Fan's Rick Agosta, discovered Steven Tyler in his Yonkers supermarket, became his first manager and launched Steven's career into rock stardom."
The Burbans are Rick Agosta (lead guitar/vocals ), Michael Cerullo (bass guitar/vocals), Andy LaDue (drums) and multiple platinum producer/engineer Matt Noble (vocals/guitars/ keyboards). The band has 3 albums out in which they blend pop, rock and country to create their own unique Americana sound. The Burbans music has been described as "A shot of rock with a twist of humor." To paraphrase one of their lyrics: "they broke the mold, then they made us." Although they are relentlessly coming up with new songs in the studio, they're set on making this the "Summer Of Burban's Live!"
The concert will also feature special guests TRIFECTA, Starnes & Shah, Michael Hammond and B.O.N.D.
Allana Marie Anthony, the radio DJ for "Live from the Chance" on Rock 93.3, the iHeart Station Poughkeepsie NY, will be emceeing the concert. She is a Burbans' fan and is passionate about the Hug Revolution and its ability to connect with others through love and kindness.
Big Fan Records and the Hug Revolution are asking concertgoers show their love and kindness by visiting Steven Tyler's Janie's Fund. Janie's Fund is dedicated to providing resources for abused girls in order to help them put their lives back together again. Each year in our country, more than 68,000 children are raped or sexually abused. The number of girls experiencing this devastating trauma before the age of 18 is a staggering 1 in 5.
The August 27th 7:30 PM concert is free and open to the public and will be held at historic Untermyer Park And Gardens 945 North Broadway, Yonkers. The public is invited to bring lawn chairs or picnic blankets and to come early to tour the Gardens.
Contact
DigiWorks Media Group
George Hudak
203-300-7748
digiworksmedia.com

Contact