Dr. Michael K. Obeng Will Perform a Miraculous Surgery on Sarjo Trawally, a 4-Year-Old Girl from Gambia with a Life Threatening Facial Cystic Hygroma
From the anointed mind to the gifted hands of Dr. Michael K. Obeng, miracles have come true for many that cannot afford surgeries in third-world countries with poverty beyond understanding.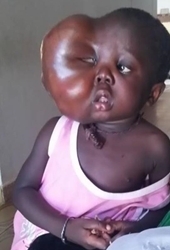 Beverly Hills, CA, August 11, 2016 --(
PR.com
)-- After careful, strategically planned trips to four countries this summer, Dr. Obeng was touched and moved by 4-year-old Sarjo with her disfigured face. Dr. Obeng has arranged for Sarjo to come to United States where he will do what may seem by millions as impossible. Sarjo arrives in Los Angeles on Thursday, August 11, 2016, which is when her transformation will begin. Dr. Obeng was born with the gift himself, to touch and change lives, faces, bodies etc. of many, with no means whatsoever to handle the cost for these surgeries. Dr. Obeng, through his charity, R.E.S.T.O.R.E., Restoring Emotional Stability Through Outstanding Reconstructive Efforts, and donations from the kindhearted, has been able to donate 100% of all services free for all surgeries that he and his select staff performs either on tour or case by case here in Beverly Hills, CA.
Dr. Obeng came to Midwestern State University (MSU) from Ghana. He saw a flyer about the university in a friend's dorm room and knew it was in Texas, but that was all. While an MSU student, Dr. Obeng laid carpet, worked for Golden Corral, and drove a school bus for the Wichita Falls Independent School District. His bed was one he rescued from someone else's trash, and he and his roommate alternated sleeping on it and the floor. After his first semester at MSU, he got a job at the Moffett Library and eventually landed a job as a residence assistant that paid his room and board, a big relief for a struggling student.
Dr. Obeng earned his Bachelor of Science from MSU in 1997, graduating cum laude with a major in Chemistry and a double minor in Mathematics & Biology. He received his medical degree from the University of Texas Medical Branch and completed post-graduate work in plastic and reconstructive surgery at the University of Texas Medical Branch John Sealy Hospitals and The Shriner's Hospital for Children before accepting a fellowship at Harvard Medical School.
Dr. Obeng is currently the Director of his own private practice, MiKO Plastic Surgery and MiKO Surgery Center in Beverly Hills, California while also serving on staff at Cedars-Sinai Hospital in Los Angeles, California. Dr. Obeng is a noted author and lecturer on healthcare disparities around the globe. He has received numerous honors, awards and recognition for his professional achievements including a research grant from the National Institute of Health and the Herman A. Barnett Memorial Award for Excellence in Surgery and Anesthesia. His professional society memberships include the American Society of Plastic Surgeons, the American Society for Surgery of the Hand, and the American Society of Reconstructive Microsurgery.
Dr. Obeng recently launched a consulting firm, Global Health Solution, which is aimed to bridge the gap between morbidity and healthy living in developing countries. He believes a "Healthy country is a wealthy country."
In Ghana, Dr. Obeng saw the pain caused by physical deformities, and the helplessness of those afflicted as they lived with their situation with no money, and too few qualified physicians to have the problem corrected. To resolve this issue, he then formed R.E.S.T.O.R.E. Worldwide, Inc. in 2008 (Restoring Emotional Stability Through Outstanding Reconstructive Efforts) to help those people and others in need. Since its inception in 2008 R.E.S.T.O.R.E.'s volunteer teams have traveled to 7 countries, including Gabon, Ghana, Guatemala, Mexico and Nigeria performing over 200 reconstructive surgeries worth over $ 5,000,000 USD and all on a pro-bono basis. Dr. Obeng credits the giving spirit of teachers, advisers, and fellow students during his time at Midwestern State University, The University of Texas and Harvard for instilling in him the need to help others. "I won't forget where it all started," he said.
About R.E.S.T.O.R.E.: R.E.S.T.O.R.E. is a 501 (c)(3) non-profit medical service organization that provides free reconstructive surgery and related medical services to children and adults with disfiguring deformities from birth, accidents and diseases. Many developing countries shun those afflicted with disfiguring deformities and look upon them as outcasts or "freaks". Often their own families hide them from the general public to spare them from either being ridiculed or physically harmed because of their disfigured appearance.
Although there is an overwhelming need for plastic surgery in developing countries, these types of surgeries are not available because there are no personnel trained to provide the necessary surgeries. As part of the organizations mission they seek to educate and train local physicians in the techniques necessary to perpetuate their initial work to continually benefit more people for years to come.
"ONE FACE, ONE BREAST, ONE BODY AT A TIME".
For more information or to help make a difference in Sarjo's life with your donation
http://www.restoreworldwide.com
http://www.mikoplasticsurgery.com
Contact:
Lawrence Phillips (LP)
LP PR Events Entertainment
(310) 619-8048
(310) 275-2701
lppreventsentertainment13@gmail.comcom
Contact
LP Entertainment PR/Special Events
Lawrence Phillips
310-619-8048
www.restoreworldwide.org

Contact