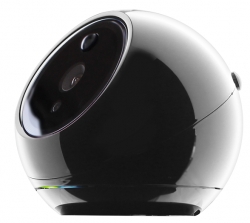 Amsterdam, Netherlands, August 13, 2016 --(
PR.com
)-- Amaryllo International B.V. (Amaryllo), founded in Amsterdam, the Netherlands, introduces the first intelligent home security robot, ATOM that is an enhanced design from its predecessor that won 2015 CES Best of Innovation Award. Standing at less than 4 feet tall, ATOM learns to recognize your faces and knows who you are in seconds. Unlike conventional facial recognition technologies that require a wide internet bandwidth to upload a huge amount of video data to cloud computers to analyze video, ATOM's embedded high-power CPUs allows it to detect human faces immediately and to fast recognize your faces.
ATOM's unique ability to send human face alerts greatly reduces common false alarm triggered by popular passive infrared sensors and typical audio sensors. ATOM has built-in speech functions to say "Hello", "Good Morning", "Good Afternoon" when human faces are detected. This innovative feature has proven useful in real world scenario that ATOM had help consumers catch a suspect who broke in his home but was scared off by ATOM's auto-tracking and talk features. ATOM employs two mega pixel sensors to deliver a full HD 1920 x 1080 resolution so it can easily track intruders over 40 feet away. Employing Amaryllo's patented and patent-pending technologies, ATOM sees and follows intruders 360 degrees even in complete darkness. The newly added flash LED light can be triggered to shoot at intruders at night to provide an additional security measure to warn off uninvited guests. ATOM checks your email every two minutes and says "You've got mail" when new email arrives to prompt your attention. ATOM announces hourly time by saying "It's 2 pm" to keep you updated.
Unlike conventional smart home products that are based on simple 64-bit encryption, which can be hacked in minutes, ATOM employs world-best 256-bit encryption technologies. This is the same security protection as used by military to offer people the best privacy protection. Amaryllo's dynamic peer-to-peer video server automatically adjusts video quality based on available bandwidth to reduce video latency and to offer the best streaming video experience. Amaryllo offers free rolling 24-hour unlimited cloud storage for each of its devices, allowing consumers to access recorded video fast and safe.
For more details, please visit Amaryllo's
Indiegogo campaign
:
igg.me/at/Amaryllo-ATOM/x
Amaryllo will demonstrate its award-winning home security robots at Booth 209 Hall 4.2b IFA Berlin from September 2 to September 7, 2016. To reserve a private product demonstration or to receive product details, please contact Amaryllo at sales.ai@amaryllo.eu. For more product information, please visit Amaryllo website at www.amaryllo.eu.
About Amaryllo International B.V.
Amaryllo International B.V. (Amaryllo) is a worldwide leading intelligent home security robotic camera company. Founded in Amsterdam, the Netherlands with facilities in Asia, Amaryllo develops award-winning robotic cameras and home security products. Amaryllo is a licensee of Apple MFi, Skype Developer, Windows Developer, Google Play Developer, AAC+, UPnP, Bluetooth SIG, etc.
540 Singel, 1017 AZ, Amsterdam, the Netherlands
T: +31 208941387
F: +31 208941333
sales.ai@amaryllo.eu
www.amaryllo.eu