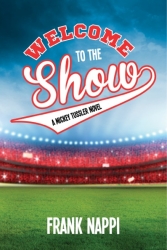 New York, NY, August 17, 2016 --(
PR.com
)-- Today, Frank Nappi's YA novel "Welcome to the Show," the third book in his critically acclaimed, groundbreaking series about a 17 year old pitcher with Asperger's, soared to the top of the Amazon charts in several categories, including Children's Baseball Books, Teen/Young Adult Baseball/Softball Fiction, Special Needs Fiction, and Bullying Fiction. Nappi's first novel in the series was adapted as a feature TV film titled "A Mile in His Shoes," starring Dean Cain, in 2011 and all three books have been enshrined in the archives of The National Baseball Hall of Fame and Museum in Cooperstown. This latest news regarding the jump in sales comes on the heels of the announcement that "Welcome to the Show" is being considered for the prestigious Newbery Medal as well as several other industry awards.
Of the novel's remarkable success recently, Nappi said, "Being able to reach so many readers in such a profound way is truly rewarding. The recent Amazon distinction is quite an honor, one that demonstrates the growing interest in Mickey Tussler and his adventures. The book and entire series is definitely becoming somewhat of a phenomenon."
Nappi is presently at work on a prequel to the series tentatively titled "The Legend Begins" and is in talks about the possibility of bringing the unique series to television as a series or to the big screen as a feature film.
Frank Nappi's first novel, "Echoes From The Infantry" was published by St. Martin's Press in 2005. Additional information about Frank Nappi and his work may be obtained at www.franknappi.com