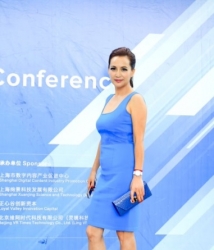 Los Angeles, CA, August 23, 2016 --(
PR.com
)-- Fashionably elegant, Hollywood producer Lily Lisa shared the limelight with other participants in the First Global Virtual Reality Conference (GVRC) in Shanghai, China. As co-organizer of this inaugural summit Lily Lisa is devoted to establish and promote the VR/AR platform globally.
Hosted by Jinqiao Shanghai China Pilot Free Trade Zone Administration at the CEIBS' Grand Theatre. The congress theme "Create A Brand New World" was attended by hundreds of the Top VR/AR industry professionals worldwide. Industry leaders, influential scientists, innovators, investors and corporate executives addressed issues of the technology, trends and applications in which Virtual Reality is making advances.
Jinqiao, Shanghai will stand at the forefront and as a leader in future decades. Attracting extensive attention worldwide, GVRC is not just one conference, it is the start of industry level exchange of activities, GVRC's goal is to adopt cross industry integration methods to open up and magnify the future of VR/AR.
Renowned speakers included Danny Yamin of Microsoft USA, Ryan Pamplin of Meta Augmented Reality, Virtually Live's CEO Tom Impallomeni, Christopher Stapleton from Simiosys Real World Lab USA, Steven Feiner of Columbia University, and Walter Greenleaf of Stanford University.
Four round table forums provided VR/AR industry elites to talk freely of industry changes resulting from science and technology, discuss life changes initiated by virtual reality technology, and build a global VR/AR communication platform and as a segue into a billion dollar industry. Covered were trends and professional aspects promoting industrial fusion and development of VR/AR in areas such as medicine, and in the film industry, and live sporting events.
The summit gathered Microsoft, META, Virtually Live, Macrograph, and other global top VR/AR technology content application corporations; CEIBS, Stanford University, Columbia University, Shanghai Theater Academy, China Central Academy of Fine Arts, Shanghai University of Science and Technology and other well-known research institutions and practitioners; China Mobile Migu Video, CNR (China National Radio) Mobile, and other Asian leading content operators and distributors; as well as more than one hundred investment and financing institutions such as Loyal Valley Innovation Capital, Kuan Capital, Richen Capital and many outstanding entrepreneurs in sports, tourism, education, agriculture, construction, medical, home, media, and many other industries.
Philanthropist, hostess Lily Lisa commented that she was "Extremely honored to be invited to attend The First Global Virtual Reality Conferences." Further commenting, "It is with pride as one of the US representatives that I devote myself to the integration and marketing as a VR industry platform resource." After experiencing Virtual Reality hands on earlier this year, Lily immediately recognized the future of opportunities that were available with this technology and grabbed the brass ring, so to speak, she has not looked back.
Lily also noted the immediacy with which advanced technology has made information available in areas such as our cell phones five years ago to the present VR technology of smart phone intelligence.
Experts agree the value of VR/AR intelligence will reach 150 Billion USD over the next five years.