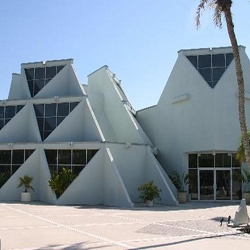 Miami, FL, August 24, 2016 --(
PR.com
)-- A longstanding Temple, located at 9408 SW 87 Avenue, Miami, Florida, has just been sold for $5,350,000.
Formerly known as Bet Breira/Samu El Or Olom, the property, a fixture in the Dadeland/Kendall area, was originally designed in the 1980's by Charles Sieger of Sieger/Suarez. It is comprised of a main building of approximately 39,000 square feet and a secondary structure of approximately 2,700 square feet, which is situated on 4.45 acres immediately to the South of Baptist Hospital.
Paul Silverstein, President of the Florida Commercial Team, LLC and Senior Director of the Commercial Division with RE/MAX Advance Realty, represented Bet Breira/ Samu El Or Olom.
"I am grateful that the Board of Directors selected me to represent their interests and the interests of the congregation," said Mr. Silverstein. "We all worked very hard to make this happen."
Isabel Fine of Real Commercial Property represented the buyer, Galloway Road Partners, LLC.
One of the top selling RE/MAX agents for more than thirty five years, Mr. Silverstein has received many prestigious designations, including the Platinum Award, 100% Club Award, the Executive Award, and the coveted Hall of Fame Award. He has been recognized by RE/MAX International as the #1 Top Selling Commercial Associate in the State of Florida, and the by the National Association of Realtors as being in the ½ of 1% of Realtors nationwide.
RE/MAX International is a global company that sold more than $11 Billion of Commercial Real Estate in 2015. The company's size & resources allow Mr. Silverstein to provide his clients with both global reach and local expertise.
Paul can be reached at (305) 794-9773 or paul@fctus.com. His website,
http://FloridaCommercialTeam.com
, provides valuable information for real estate investors, as well as additional information about the Florida Commercial Team, LLC.