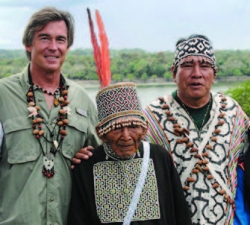 Douglasville, GA, August 26, 2016 --(
PR.com
)-- "Amazon John" Easterling at the podium:
Thursday, October 13 6:30-8:30 pm "Rainforest Botanicals for Radiant Health: Clinical Applications and Everyday Use"
Douglasville Conference Center, 6700 Church Street, Douglasville, GA 30134
"Amazon John" Easterling will be discussing how potent rainforest herbs truly are. He will share the latest in the fascinating research available on how they can restore mental clarity, vital energy, digestive health, lymphatic system well-being, and health to virtually every system of the body.
Easterling is a contributing author of "Healing Ourselves, Healing Our Planet." He has shared his knowledge on his over 30 years of Rainforest experience in Radio and TV profiles including "Good Morning America" and "Fox and Friends." He has been featured in two PBS documentaries: World New Report "Amazon John and Rainforest Medicines," and Jean Michel Cousteau's "Return to the Amazon."
Tickets are still available (www.aonh.org, info@aonh.org, 202.505.AONH) for healthcare practitioners, and the public alike.
Media contact: Camille Carlson Gehrlich camille@aonh.org