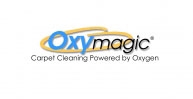 Fairfield, NJ, August 30, 2016 --(
PR.com
)-- Northeast Oxymagic Announces Acquisition
Northeast Oxymagic Development Corp. announced that it has acquired Oxymagic, a franchisor in the carpet cleaning industry. Prior to the acquisition, Northeast Oxymagic had limited its operations to the northeastern section of the United States. This acquisition will allow for expansion throughout the US.
The purchase of the franchisor fits into Northeast Oxymagic Development Corporation's strategy to expand its franchise operations in the carpet and upholstery cleaning business. By purchasing the company, Oxymagic Northeast Development Corp. will be able to offer franchises throughout the United States.
The company is committed to using safer cleaning products, and recently became Green Seal Certified. Green Seal offers certification for products, services, and companies that can meet a rigorous set of standards and establish an ongoing commitment to health and the environment through annual compliance and monitoring. Find out more at GreenSeal.org
Thomas DiMaio will serve as the CEO. Tom is a strong leader, bringing an ability to inspire and energize franchise owners, partners, and co-workers. Tom's vision, strategy and track record is exactly what Oxymagic needs as it continues to expand.
DiMaio joined Oxymagic in 2006 after holding management positions with UPS and FedEx. He began his career with Oxymagic as a franchise owner, and quickly expanded by becoming a Master Franchise. Under his direction, the northeast region has grown to over 25 franchised locations. DiMaio will now oversee the direction of 49 franchised locations.
"Our acquisition of Oxymagic complements our desire for expansion, we will offer franchises in additional states, giving us the ability to service customers in more cities. Given the high consumer demand for safer cleaning products, the Green Seal certification shows Oxymagic's commitment to providing a safer carpet and upholstery cleaning method," said Tom DiMaio, CEO of Northeast Oxymagic Development Corp.
About Oxymagic Northeast Development Corp
Oxymagic Northeast Development Corp., based in Fairfield New Jersey, is a franchisor offering franchise locations throughout the United States. The company provides residential and commercial carpet cleaning services, using the unique Oxymagic method. The Oxymagic method offers a quick drying time. To learn more information about Oxymagic visit oxymagiconline.com or oxymagicusa.com