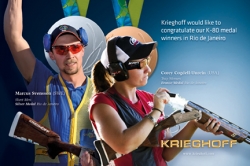 Ottsville, PA, August 29, 2016 --(
PR.com
)-- Krieghoff celebrated a record number of shooters to compete in the 2016 Olympic Games in Rio, earning the first Olympic Medals for the brand since Donald Haldeman's Gold Medal in 1976 in Montréal.
Marcus Svensson (SWE) won the Silver Medal in Men's Skeet. After the first day of competition, Marcus Svensson was the only shooter 75 straight and leading the field. On the second day, he shot 24 in both remaining rounds and had a total score of 123. In the semi-final, Marcus shot a perfect 16 out of 16. Going into the Gold Medal match after tying with Gabriele Rossetti (ITA), he missed the very last target to take the silver medal at his 2nd Olympic participation. In April Marcus said, "In August my goal will be to enter the semifinal, then anything can happen."
Corey Cogdell-Unrein won the Bronze Medal in Women's Trap. This was the second Olympic medal for Corey (USA). She defeated Spanish shooter Fatima Galvez in the shoot-off for bronze medal after both shooters shot 13 out of 15 targets. "In 2008, I was only two years into the sport and now I've put close to 10 years into it and I'm a much different athlete. Every athlete goes through the ups and downs and when you go out there and earn a medal, it just makes it so much more meaningful," Cogdell-Unrein said.
Their list of Olympic Competitors include:
Gaby Ahrens (NAM) Women's Trap
Corey Cogdell-Unrein (USA) Women's Trap – Bronze Medal
Morgan Craft (USA) – Women's Skeet - Finalist
Federico Gil (ARG) Men's Skeet
Melisa Gil (ARG) Women's Skeet
Andreas Löw (GER) Men's Double Trap – New Olympic Record in Qualification
Maxime Mottet (BEL) Men's Trap
Marcus Svensson (SWE) – Men's Skeet – Silver Medal
Frank Thompson (USA) – Men's Skeet
More information about Krieghoff International can be found at www.krieghoff.com.
Contact:
Linda Mayes, lmayes@krieghoff.com 610-847-5173 ext. 114