Xclaimed Ministries "Mobile Stage Project" Underway
A little over a year since their last "Concert in the Park" event, Xclaimed Ministries rolls out their "Mobile Stage Project" in San Diego.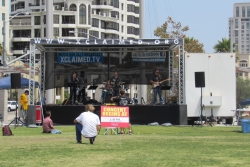 San Diego, CA, September 01, 2016 --(
PR.com
)-- In 2014, Xclaimed Ministries experienced a great growth in their outreach. At the end of the year, over 2,000 people attended their December event. This created growing pains for the ministry because they did not have sufficient parking for this continued growth. The City of Stanton has worked well with the ministry, but they admitted that this would be an issue if the numbers continued to grow.
The ministry decide to not schedule any concerts for 2015 and to use that time to reevaluate and seek God's direction. Mid 2015, the vision became more clear, it was time purchase a Mobile Stage. A stage that would allow the ministry to go from one community to another spreading Hope through Jesus Christ. A local manufacturer offered to build a 26 x 24 ft mobile stage for the ministry ($30,000). When unable to raise enough money for the mobile stage, Pastor Dennis of "United in Him" ministries donated a 14 x 8 ft mobile stage for them to use in the meantime.
Paul Karanick, co-founder of Xclaimed Ministries said, "This stage was smaller and needed some upgrades. We began to modify it a bit and made it into a 22 x 14 ft stage. It takes a few hours to setup, but it is a great looking stage when it is complete. We can't thank Pastor Dennis enough for his support of this vision and ministry."
On August 27th, Xclaimed rolled out their "Mobile Stage Project" to San Diego at Ruocco Park and will move on to Whittier, CA on September 17th and La Mirada, CA on October 29th. Karanick said, "One of the desires of Xclaimed Ministries is to reconnect the church with the community. It wasn't long ago that people looked to the church for resources, guidance and support. Many research reports are finding that people are more and more disconnecting with church. We are hearing that nearly 45% of adult Americans do not attend church at all. Of the 55% who do attend church, a large percentage only attend once or twice a month. I believe we need to take the church to the people; we simply can't wait for them to walk inside our church doors any longer. The "Mobile Stage Project" takes church to the community."
Anyone looking for additional information on Xclaimed Ministries please visit the website at
www.xclaimed.org
. Connect to their Facebook Page, YouTube Channel and Twitter. Watch Xclaimed.tv 24/7.
Contact
Xclaimed Ministries, Inc
Paul Karanick
(714) 226-9000
http://www.xclaimed.org
10871 Western Ave
Stanton, CA 90680

Contact