Frombie Run: a New Portal-Jumping Endless Runner Game for Mobile
Toys and collectibles creator Frombie® launches a mobile game for all ages on iOS and Android devices.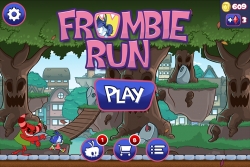 Boca Raton, FL, September 02, 2016 --(
PR.com
)-- After much anticipation, the popular toy and collectibles company Frombie® has released Frombie Run, an endless runner game for mobile featuring non-stop running, jumping and smashing action while collecting coins and crystals in a fast-paced adventure featuring the Friendly Zombies!
Frombie Run is the story of our hero, a young friendly zombie girl named Zora who is the planet Ssorc's only hope to bring her planet back to peace from the evil Meanatoad and his Bullifrogs. While avoiding being captured by a Bullifrog, Zora jumps through a portal and ends up on Earth where she must continue running through levels like Tokyo, Egypt and Tibet and many more to hopefully return to her planet safely.
Game Features:
Appropriate for kids of all ages!
Play as Zora or unlock any of her friends, each with different playing styles.
Tap and Swipe your way over, under and through challenging obstacles.
Collect "wisps" and use them to jump through portals to different worlds and levels.
Collect coins to power-up and buy upgrades for speed boosts, shields, magnetism and more.
Complete Daily Missions to earn and unlock rewards.
Direct link to "Friendly Zombies' the free-to-play Frombies interactive comic book app.
Available now as a free-to-play download on the Apple App Store
https://itunes.apple.com/us/app/frombie-run/id1109013606?ls=1&mt=8
and Google Play
https://play.google.com/store/apps/details?id=com.acronymgames.frombierun
. (Includes in-app purchases and video ads)
Watch the trailer here:
https://youtu.be/GHswtCFNcLQ
"Our fans have been asking for a game for years so we're really excited to finally bring our story and characters to life through an action-filled game like Frombie Run," says Adam Litvack, founder of Frombie.
Frombie Run was developed by A.C.R.O.N.Y.M. digital, a Vancouver-based boutique application development studio dedicated to developing content-conscious digital entertainment across multiple platforms and devices.
Frombie® was created in 2010 by Adam Z Litvack. Within the popular world of zombies, Litvack created "friendly zombies" something fresh and appealing for all ages and genders. Since the beginning, the company has been creating and manufacturing much sought-after collectible toys & pins only found at Frombie's online store Frombies.com, and special events such as Comic-Con and select retailers. Frombie® has been nominated for best collaboration figure in the DTA 2013 (Designer Toy Awards), and its Frombies back-to-school pocket folder collection is now available in Walmart's nationwide!
Learn more about Frombie Run. Contact us: contact[at]frombies[dot]com or info[at]acronymdigital[dot]com
Visit our website: Frombies.com
Like us on Facebook: facebook.com/frombierun
Follow us on Twitter: @frombierun
Follow us on Instagram: @frombierun
Watch us on YouTube: youtube.com/frombierun
Contact
ACRONYM digital
Tom Ciprian
604.428.0509
www.acronymdigital.com

Contact