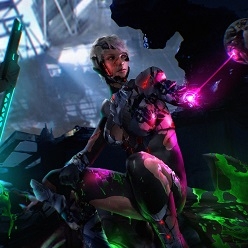 San Francisco, CA, September 06, 2016 --(
PR.com
)-- Mobile game developer, Blackbeard, has released a new cyberpunk Sci-fi style artwork for Project Dystopia. This action RPG game has gained traction early in Korea after it was announced that the game is being developed by former Call of Duty concept artist, Kevin Baik, and Blade & Soul game designer, Ryan Kang. It has been proven by games like Overwatch that there are many gamers who are always looking for something different, since many RPG's base their world on, somewhat obvious, the medieval period. The interest for a new kind of mobile RPG is growing amongst gamers. Keeping up with this trend, Project Dystopia seeks to capture those gamers with its interpretation of Sci-fi RPG genre.
According to the report by Newzoo last April, mobile games make up 27% of the $36.9 billion market size. Behind this rapid growth lies games mostly developed by King, Supercell, and Machine Zone, which are mostly strategy or casual games. Blackbeard sees that role-playing games for mobile has not yet blossomed globally, and thinks one of the reason is because no one has found the right way to capture the PvE/PvP experience gamers are used to in PC games. Kevin and Ryan are confident that they've found the right recipe for mobile action RPG in Project Dystopia.
The developer has implemented a deep learning algorithm into their gameplay engine to learn how gamers control and how skills are being used. The algorithm will adapt these patterns to make the gameplay more intense and unpredictable. The developer is planning on gradually releasing more information on this AI game engine as the launch get nearer.
"Overwatch has proved that gamers are looking for a new concept. We are developing this game for the global audience. Most of the game systems have been developed, and with optimization process, we are hoping to begin CBT in North America and other selected regions by the end of this year," said CEO of Blackbeard, Ryan Kang. "Many Call of Duty fans have been asking us to release more artwork. We will begin to release those along with game system pretty soon. The development is 80% complete, and hope to see you all very soon."