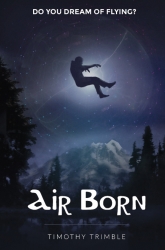 Lynnwood, WA, September 06, 2016 --(
PR.com
)-- One must purchase this book to see the wonder of the Pacific Northwest through the eyes of a young adult protagonist named Leif, who discovers his heritage as a Avitorian, his ability to fly, and the threat to his race from the ancient Egyptian group called The Eighteenth of Ahmose. The excerpt on the back of the book says,
"After thousands of years, the ancient 18th of Ahmose are still on the hunt for the secret of flight, forcing Avitorians to hide in fear. Facing the threat of capture, Leif's dreams are shattered and he is forced to decide between hiding or embracing his heritage."
"Air Born – Do You Dream of Flying" will enthrall anyone, young or old, with the peaceful scenes of flight, the angst of young love, and the conflict with The 18th of Ahmose.
Air Born is authored by Timothy Trimble, edited by Mark Hammer, and Cover Art by Russell Calhoun. It is available on Amazon.com in Kindle and Print format.
· Paperback: 316 pages
· Publisher: CreateSpace Independent Publishing Platform
· Language: English
· ISBN-10: 1536873292
· ISBN-13: 978-1536873290
· www.amazon.com/dp/1536873292
About the Author: Timothy has been writing stories since his teenage years, with many years of distraction as a performing musician. His true love of writing fiction continues with his science fiction and urban fantasy stories. He lives in the Pacific Northwest, where the prevalence of coffee shops and hiking trails contribute to his inspiration. He is the author of four books and over forty articles in various media publications. He can be followed online at:
www.timothytrimble.com
www.facebook.com/AuthorTimothyTrimble
Twitter @TimothyTrimble