NetSuite Partner Trajectory Climbs Accounting Today's Rankings
5-Star NetSuite VAR, Trajectory, has climbed 26 places on Accounting Today's 2016 VAR 100 list.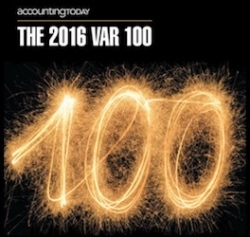 Toronto, Canada, September 15, 2016 --(
PR.com
)-- Trajectory Inc., a 5-Star NetSuite Solution, and top value-added reseller (VAR) for the NetSuite application, today announced that it has climbed to 74th place in Accounting Today's 2016 VAR100 list. Accounting Today is a leading provider of online business news for the accounting and financial operations community offering news, in-depth features, insightful editorial analysis, and web-related resources and services. Each year, the publication ranks the top 100 enterprise resource planning (ERP) solution providers in North America based on their company growth during the previous calendar year.
Trajectory is one of a select few NetSuite partners to be ranked within companies on this year's VAR100 list. "Trajectory is thrilled to once again place in the prestigious VAR100 list, and we thank our many customers and our team who are the sources of our success," said Alex Olano, Managing Partner of Trajectory. This is the second consecutive year that Trajectory has been ranked on the list, climbing 26 spots from 2015's ranking.
Having been recognized as a top partner by NetSuite and the wider ERP community has been many years in the making. Andrew Andreoli, Director of Services, added, "By taking a customer-centric approach to business process implementation and the support of the NetSuite solutions we deliver, we have been able to make each of our customers successful in their goals." Trajectory is committed to helping customers of all sizes grow their businesses, from small and mid-sized enterprises (SMEs) to large-scale enterprise customers with subsidiary operations in multiple countries.
"We've seen significant growth in mergers and acquisitions, where companies are leveraging NetSuite for rapid-deployments and ultra-fast separations," explains Trajectory's Olano. "As the leading choice for rapid-deployment ERP platforms, NetSuite provides the most balanced way to stand-up a newly separated organization quickly, while ensuring a clear path to future process improvement, standardization and optimization."
To learn more about Trajectory and NetSuite ERP visit
http://www.trajectoryinc.com
About Trajectory
Trajectory Inc. (www.trajectoryinc.com) is a systems integrator and consulting firm passionate about helping small and mid-sized enterprises succeed. We do this by helping them challenge their business processes and find efficiencies that help them to attain your business goals and vision for growth and success. Trajectory is a business process implementer and the leading provider of the NetSuite ERP application for growing businesses and subsidiaries of large enterprises.
Through its offices located in North and South America, Trajectory provides software and consulting services to enable each client to gain immediate benefits in better managing and growing their organization.
Contact
Trajectory, Inc.
Kurtis Meloche
(647) 259-0710
www.trajectoryinc.com

Contact