Air-Care Unveils Redesigned Website
New Air-Care.com Features Refreshed Design, Enhanced Content and E-commerce Capabilities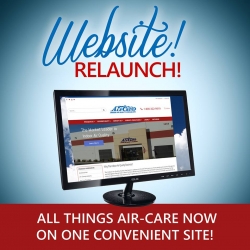 Las Vegas, NV, September 19, 2016 --(
PR.com
)-- Air-Care today announced the launch of a new, redesigned version of its website, air-care.com. Key features of the site include a cleaner and more attractive design, a more engaging user experience with enhanced search and navigation features.
"We are excited to be able to offer an e-commerce solution to our customers, ensuring their product needs are met," said Laura Consoli, Director of Sales and Marketing. "As a manufacturer and the leader in our industry, we want to offer as many paths to our contractors as possible."
The site's refreshed and simplified look, combined with enhanced content, improved search functionality, and optimization for mobile devices allows user to better interact with Air-Care online.
"Our mission as a 21st century manufacturer is to connect contractors with the right products," said Richard Papaleo, CEO. "The elegant, consumer-centric design of the site provides an innovative platform for our contractors that will boost the discoverability of our products, drive sales, and - ultimately - launch improved service offerings and a new career for the start up contractors."
About Air-Care
Air-Care was started in 1979 by Richard Papaleo. One of the premier and innovative thinkers in this industry, Richard revolutionized air duct cleaning by creating portable, powerful, electric, and affordable equipment that could be used to efficiently and effectively clean both residential and commercial air systems. We have grown from a small startup to the international authority on air duct cleaning equipment and services. Our 30,000 square foot facility houses our manufacturing and training facility. We produce electrostatic air filters and air duct cleaning equipment from this facility, as well as provide training on a regular basis. It is also the home base for our service department, which is the leading commercial air duct cleaner in Las Vegas at:
air-care.com
.
Media Contact:
Laura Consoli
Air-Care
702.454.5515
lconsoli@air-care.com
Contact
Air-Care
Laura Consoli
702-454-5515
www.air-care.com

Contact