Employees of Massachusetts Dealership Respond to the Needs of Dealership Employees Affected by the Flooding in Louisiana
Marty's Buick GMC Isuzu hosts a Car Show to raise funds for NADA's Emergency Relief Fund.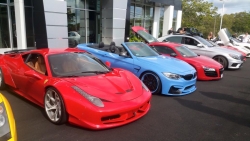 Kingston, MA, September 20, 2016 --(
PR.com
)-- As soon as Christine Alicandro Karnolt, Dealer Principal of Marty's Buick GMC Isuzu learned of NADA's campaign to provide financial assistance to victims of the flooding in Baton Rouge, LA and its surrounding areas, with great emotion she shared the article with members of her management team. "We all watched the video that was recorded by NADA President Peter Welch describing the traumatic devastation and losses the people incurred, namely the dealership employees," remarked Kevin Ihlefeld, General Manager of the dealership. He added, "After the two minute video completed, there was an eerie silence in the room as each one of us digested the suffering these people were experiencing. At that point, we knew we wanted to do something on a grand scale."
In the video, Peter Welch explains that more than 1500 dealership families were flooded out of their homes and sadly, most did not have proper insurance to protect their losses. He talks about the auto mechanic who not only lost their homes, but the dealership they work for also suffered damages resulting in lost wages and damage to their personally owned tools, some valued up to $60,000. "We all could relate to this news release because something like this could happen to any one of us," said Peter Whalen, the Service Director for the store. "After much discussion, it was decided that if we hosted a car show, we had the chance of raising the most amount of money in the shortest period of time," added Bill Morris, Sales Manager. Brian Mello, Digital Marketing Director reached out to an Exotic Car Club he is associated with, and within an hour, he received a dozen emails stating, "I'm in!"
On Sunday, September 18th Marty's hosted a car show at their dealership location. The show was open to exotic cars, classics and hotrods, while a DJ provided entertainment and a food coach owned by a Marty's customer offered the refreshments. A cumulative team effort coupled with a true passionate desire to help those in need, were the driving forces which contributed to making the show a huge success! Even though Marty's competed with opening day for the NE Patriots and a rather dismal weather forecast, hundreds of folks attended to support their campaign. Funds were generated from T-Shirt sales, raffle ticket sales and vehicle registration fees. A multitude of vendors from the community stepped up to the plate and donated raffle items, including New England Team game tickets! Thus far, the car show brought in $5000.00 for the Relief Fund.
"I could not be more proud of my team," exclaimed Christine Alicandro Karnolt, "The synergy displayed by so many employees and their families was extraordinary! I repeatedly relay to my team that 'Exceptional Efforts= Exceptional Results.' This event was a true testimony of this mantra!"
The crew at Marty's has already discussed hosting an annual charity car show to assist those who are more vulnerable in the community. "'We serve' is a Marty's motto which we intend to expand upon even further," added Nancy Simmons, Comptroller. "Hosting a car show allows us to remain in our wheelhouse, providing enjoyment for Car Guys and Car Gals while raising money to assist those who need a helping hand!"
Contact
Marty's Inc.
Nancy Simmons
781-585-7570
www.martysbuickgmc.com

Contact