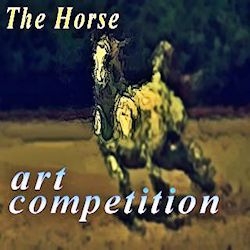 Tucson, AZ, September 21, 2016 --(
PR.com
)-- Focus Point Shape International Online Art Gallery announces The Horse Juried Online Art Competition for the month of September 2016. 2D artists from around the globe are called upon to make online submissions for inclusion into the Gallery's October 2016 online group Exhibition.
"To ride a horse is to ride the sky." ~Author Unknown
"Horses are creatures who worship the earth as they gallop on feet of ivory.
Constrained by the wonder of dying and birth, the horses still run, they are free." ~John Denver and Joe Henry, "Eagles and Horses"
"The wind of heaven is that which blows between a horse's ears." ~Arabian Proverb
So ... if the Gypsy Vanner, Thoroughbred, Morgan, Arabian, Percheron and others ... give you a reason to get up in the morning ... you are in good company.
This Competition is for Collage, Watercolor, Mixed Media, Oils, and Acrylic media.
Focus Point Shape encourages entries from all 2D artists regardless of where you live and regardless of your experience, education or training in the art field. A group exhibition of the top finalists will be held online at the Focus Point Shape Online Art Gallery during the month of October 2016.
Rewards - for art competition winners -
1] The Horse - Juried Online Art Competition Awards will be for best Of Show and the top two places in each media category. And...depending on the number and quality of the entries received, Honorable Mention and Special Merit awards will also be presented to worthy artists.
2] Publicity Package - Best of Show Winner for The Horse Juried Online Art Competition will receive global publicity in the form of 400+ press release announcements, and additional promotion to alert the art buying public of the artist's accomplishment. 1st and 2nd place winners will receive a publicity package of 200 announcements to the art buying public.
3] Winners also go into the online Winners Archive with links to your art site ... should you wish to reference your accomplishment in your Bio or CV.
Deadline for Receiving Entries.................September 30, 2016 - Midnight
to enter online-
https://focuspointshape.com/current-art-competitions/the-horse-juried-online-art-competition/
Elizabeth Merchant
Curator
Focus Point Shape International Online Art Gallery