Texas Trust Presents Tom Cravens with the Inaugural Dream Builder Award
Tom Cravens, a well respected Arlington resident and businessman, was recognized for his vision for rejuvenating downtown Arlington. The award was presented by Texas Trust CU at the Downtown Arlington Management Corporation annual luncheon.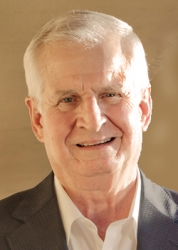 Arlington, TX, September 26, 2016 --(
PR.com
)-- Tom Cravens, a name synonymous with Arlington, has received the inaugural Dream Builder Award from the Downtown Arlington Management Corporation (DAMC). The award was presented by the DAMC's premier partner, Texas Trust Credit Union, at the annual DAMC luncheon.
The Dream Builder Award was created to recognize individuals who have had a significant impact on the downtown Arlington community. Cravens has been a driving force to revitalize downtown Arlington and make it the heart and soul of the city since the 1980s. He championed the revitalization effort by aligning community leaders, businesses, and residents to create a vibrant downtown as an economic engine for the city and a destination spot for businesses, residents, and visitors.
Cravens' vision helped shape the revitalization effort, giving downtown Arlington a strong sense of identity and making it the heart of the city again.
The Dream Builder Award was presented to Cravens by DAMC Board Member Debi Knoblock, Assistant Vice President of Relationships and Opportunity at Texas Trust Credit Union. Texas Trust conceived the Dream Builder Award and worked with the DAMC to establish it as a way to honor citizens who have helped make Arlington the American Dream City.
"For generations, Tom and his family have shaped Arlington through their selfless dedication and commitment to our community," said Tony Rutigliano, president and CEO of the Downtown Arlington Management Corporation. "I have the honor of carrying out the vision to rejuvenate downtown. Tom has been an inspiration to our city and we are privileged to honor him with the Dream Builder Award."
About the DAMC
The Downtown Arlington Management Corporation is a private, non-profit community development organization whose purpose is to forge alliances between property owners, business interests, residents and the City of Arlington to improve and enhance the economic vitality and overall environment of Downtown Arlington. Follow the DAMC on Facebook.com/DowntownArlingtonTexas or @DTArlington.
About Texas Trust Credit Union
Texas Trust is a full-service financial institution serving the residents and businesses of Dallas, Tarrant, and Henderson counties, as well as parts of Ellis and Johnson counties with 16 branches located in Mansfield, Grand Prairie, Arlington, Cedar Hill, Midlothian, DeSoto, Hurst, and Athens. With assets of $950 million, Texas Trust is one of the largest credit unions in North Texas and the 19th largest in Texas. Texas Trust is a federally insured financial institution. Deposits to at least $250,000 are backed by the full faith and credit of the federal government through the National Credit Union Administration (NCUA). For more information, visit TexasTrustCU.org, or follow us on Facebook.com/texastrustcu, or Twitter at @texastrustcu.
Contact
Texas Trust Credit Union
Kristine Tanzillo
903-865-1078
www.texastrustcu.org

Contact